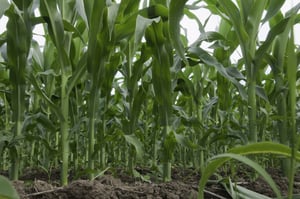 Agricen presented data on SoilBuilder at the 2011 ASA, CSSA and SSSA International Annual Meetings. SoilBuilder is Agricen's base biochemical fertilizer catalyst technology for the agriculture industry.
In a 3-year field study conducted at Arise Research and Discovery (Martinsville, IL), SoilBuilder reduced nitrate leaching from soil applications of urea ammonium nitrate (UAN) – in addition to improving nitrogen use efficiency and corn yields – when incorporated into an integrated nutrient management program on corn. The data was discussed during an oral presentation: Increased Nitrogen Use Efficiency and Reduced Nitrate Leaching Using SoilBuilder AF in an Integrated Nutrient Management Program on Corn (Abstract #387-3).
Data from a separate study on SoilBuilder, conducted by researchers from Auburn University, was also presented: Microbial Inoculants as Tools for Reducing Nitrous Oxide Emissions from Soil (Oral presentation; Abstract #288-4).