Trial results from North Carolina show how Accomplish LM can offer growers wheat yield gains when broadcast in the spring.
In a wheat trial conducted last season, Accomplish LM was applied at 2 quarts/acre in the spring along with a nitrogen urease inhibitor and UAN broadcast at 20 gallons/acre. The treated part of the field showed a wheat yield increase of 8.13 bushels/acre, compared to no treatment (UAN alone).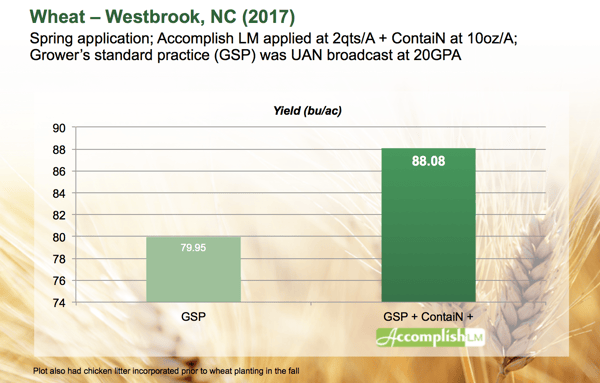 The key benefits of Accomplish LM include improved nutrient availability and better root growth and development. This technology can be used alone or with a complementary technology such as a nitrogen stabilizer/inhibitor to optimize crop yields and profit potential when added to a grower's crop fertility program.
In the latter scenario, Accomplish LM ensures that both applied nitrogen and soil nutrients are in the most e­fficient form for plant uptake, while the nitrogen stabilizer/inhibitor helps ensure that nitrogen remains in the root zone for plants to access when they need it most.
Learn more about using Accomplish LM by downloading the Accomplish LM booklet.