This is Part 4 in our five-part series about sustainable growing practices and how they are changing agriculture.
Agricultural biologicals are a fast growing sector in agriculture, but it hasn't always been this way. What have some of the challenges been in the development and acceptance of these biologically derived products?
Overcoming Past Perceptions
One of the challenges in the advancement and modern day acceptance agricultural biologicals has been the profusion of companies over the years selling "miracle" microbial solutions—often of indeterminate quality or origin.
By making overstated claims that were not backed by rigorous science, these companies contributed to the perception that biologically sourced tools for plant nutrition were little more than "snake oil."
Soils Systems Are Complex
Another major challenge to the development of these tools has been the very complexity of the soil-plant system, coupled with the limitations of the technology to meaningfully analyze this system.
In fact, developing a full understanding of the complex microbial communities in the soil is a challenge of staggering magnitude.
Even with today's sophisticated genetic analysis tools, we can identify only about 1 percent of the microorganisms found in any soil sample at the species level. Thus we know very little about how the remaining 99 percent of the microbial community, which is still unidentified, functions in the soil-plant system (Fig. 1).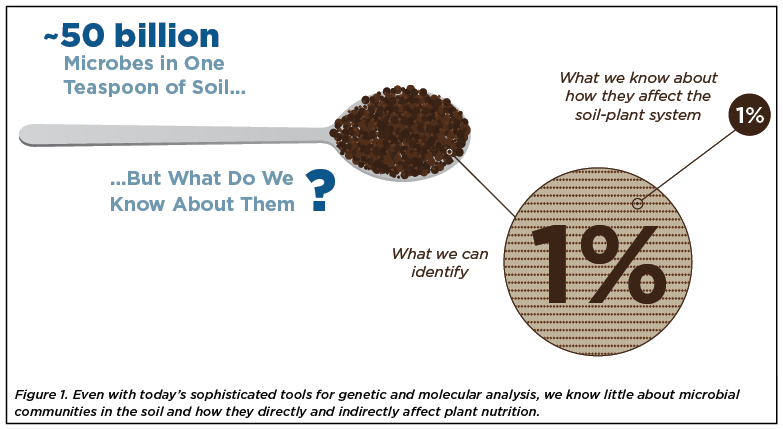 Microbial Communities Impact Plant Nutrition Biochemically
Even more challenging—and perhaps more important—may be trying to understand how these microbial communities biochemically impact plant nutrition.
Each microbial and fungal organism may be the source of unique biochemical compounds that affect a variety of soil, plant and microbial community functions through interactions triggered at the molecular level.
With the evolution of next-generation tools for molecular analysis, we now know that there are numerous signaling compounds and other molecules that are capable of "turning on" various plant genes that affect plant functioning—things like nutrient acquisition, rooting responses and the production of secondary metabolites within the plant itself.
Research Increasingly Supports Biological Tools
Researchers today are working to deepen their understanding of how these complex microbial communities and their metabolites affect plant nutrition, and they are applying this knowledge to improve crop production. Their efforts are reflected in a growing body of literature that supports the use of biological tools in agriculture, as well as increasing recognition of the need for more sustainable production practices by growers, policymakers and international organizations.
It's time for another look at how we can use the tools of biology to enhance an inherently biological system. This doesn't require an anti-chemical approach. Rather, we can make our agricultural practices both more productive and more sustainable by incorporating the next generation of biologically sourced tools into existing growing practices—in a sense, an "integrated nutrient management" approach similar to the integrative frameworks used in crop protection practices.
It will take time for this science to evolve and mature. Years—perhaps even decades—of work lie ahead in deciphering the biologically induced changes within the soil-plant system. However, we don't have to wait until all of the mysteries are solved to start putting the knowledge we do have to work for us—and solving some of the great challenges of the day.
#
This is Part 4 in our five-part series (Part 1, Part 2, Part 3, Part 4, Part 5) about sustainable growing practices. To learn more about Agricen and our contributions to sustainable growing practices, subscribe to our newsletter.