This is Part 5 in our five-part series about sustainable growing practices and how they are changing agriculture. Read other parts of this series: Part 1, Part 2, Part 3, Part 4.
We started this blog series by highlighting the fact that crop yields will need to increase substantially to meet growing global needs. We learned that growers are facing increased demands to incorporate more sustainable practices into their operations. We also know that growers are seeking ways to enhance the efficiency of their fertilizers, so that they can increase yields more cost effectively and sustainably.
For more than a decade, Agricen has invested in rigorous scientific research focused on developing practical biological and biochemical tools to improve the quality and performance of plant nutrition programs. The result is innovative products like Accomplish LM and Titan PBA, used by growers worldwide to increase the availability of their applied nutrients, improve their nutrient use efficiency and maximize their yield potential.
Our products have been rigorously evaluated in hundreds of studies (Fig. 1), demonstrating efficacy across crops, soil types and fertility practices.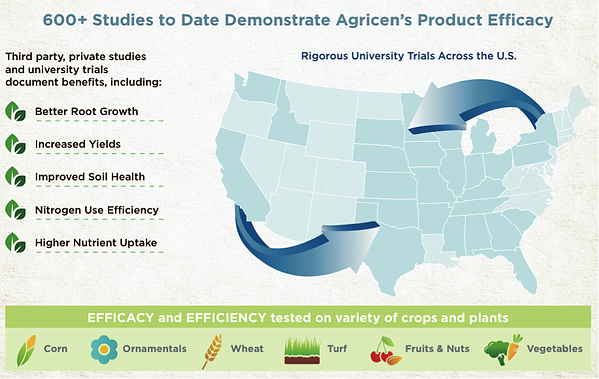 We are constantly working to enhance our understanding of how biologically sourced tools can contribute to the economic and environmental sustainability of production agriculture. Our efforts in the field are complimented by an active laboratory research program, led by our sister company Agricen Sciences, devoted to unravelling the complexity of microbial communities and their interactions within the plant-soil system.
Today, we are leading the innovation and delivery of biochemical plant nutrition technologies to give growers the tools they need to increase sustainability and productivity.
#
This is Part 5 of our five-part series (Part 1, Part 2, Part 3, Part 4, Part 5) about sustainable growing practices. To learn more about Agricen and our contributions to sustainable growing practices, subscribe to our newsletter.