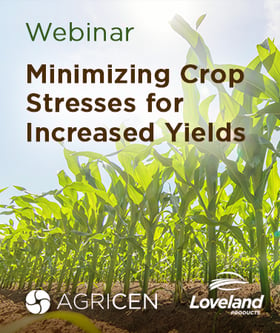 Typical spring conditions create a challenging environment for a young crop. Too much or too little water, cold temperatures, and fertilizer salts may slow early season plant growth and can rob you of yield potential.
Accomplish MAX, a new product available through Nutrien Ag Solutions, is designed to help you take on these challenges while also driving yield.
Watch our on-demand webinar, "Minimizing Crop Stresses for Increased Yields," to learn:
How

Accomplish MAX can help your crops succeed with "More Nutrients, Less Stress"




Why

this combination of proven biochemistry and cutting-edge kelp technology provides significant agronomic benefits




How

Accomplish MAX has performed in recent corn and cotton trials
Accomplish MAX
, a next-generation biocatalyst designed for use in at-planting applications (including with
in-furrow liquid starters and 2x2 placement of liquid fertilizers)
, is formulated to improve nutrient availability to a growing crop while also increasing crop tolerance to environmental stressors like cold temperatures, drought conditions and salinity from applied fertilizers.
Watch the webinar today to learn how to get more nutrients into your crop and mitigate crop stress with Accomplish MAX.