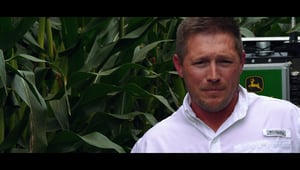 For the past several years, Chris Perkins, a grower and Nutrien Ag Solutions location manager in Otwell, Indiana, has been running an experimental, high management, continuous corn plot using several products in the Loveland Products portfolio, including Accomplish LM and Titan, so that he can prove the value of the products he sells to his customers.
Many of the decisions that Chris makes in the management of his plot are driven by ongoing research at the university level, primarily that of Dr. Fred Below of the Crop Physiology Laboratory at the University of Illinois at Urbana-Champaign.
We spoke to Chris to learn more about how he uses biocatalyst products to tap into nutrients in his field, bring up fertility levels, and sustain a healthy soil structure under his corn on corn acres. We also spoke to Dr. Below to hear his take on the success Chris has had raising soil fertility levels and crop productivity. Watch the video to hear from Chris and Dr. Below.
"One of the things that Chris does exceptionally well is that he manages the residue so that it releases more nutrients in season, throughout the whole season," says Dr. Below. "Chris took that marginal field and, over the last three years, I've seen him raise yields by 60 bushels. He's done this with a combination of technologies. He's managed the nutrients that are in the residue, he's managed the nutrients that are in the soil, and he's protected the crop."
One of the key benefits Chris has noted from using Accomplish and Titan technologies is an increase in soil nutrient values.
Learn more about the work Chris has done to improve soil fertility on his continuous corn acres.
"In the past three years, we have taken a field that was in the mid-20s on phosphorus and, by running biologicals such as Accomplish and Titan with our fertilizer, we've pushed those levels to over 150 lbs per acre," says Chris. "We have all of these nutrients in the field from my dad, from my grandpa, and probably even from my great grandpa, and that's what we think has come in with the Accomplish technology, which breaks those nutrients down for us so that they can continue on through the new crop."
Find out more about the biocatalyst technologies Chris is using and how they can help your operation by accessing our biocatalyst technology FAQ.