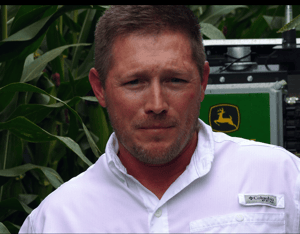 Chris Perkins, a Nutrien Ag Solutions location manager in Otwell, Indiana, likes to practice what he preaches when it comes to the products he recommends to growers. If he's not familiar with something, he tests it on his own family farm and carefully evaluates the data to make sure the product is living up to its claims.
"My dad lets me have 17 acres for a community plot where we're doing corn on corn," says Chris. "I want to show guys 'Hey, this is what we're doing, and this is what we're seeing because of this product, management practice or hybrid.'"
Over the past few years, Chris has been evaluating Accomplish LM and Titan on his 17 acres, and he's seen both his yields and his soil nutrient values rise. Along with the fertility added by the continuous corn, he credits the Accomplish and Titan technologies for contributing to a good portion of those increases.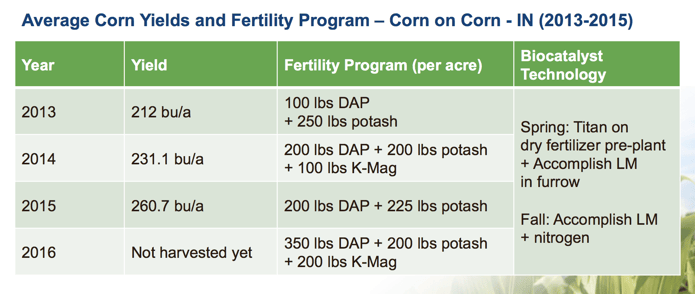 "These acres have received moderate fertilizer levels, but not enough to support the rise in soil nutrient values we're seeing, much less the yields being attained," says Chris. "We're testing soil from the same spot in the same way and at the same lab, and that's how we noticed something big going on with potassium and phosphorus. There's something happening in the soil. And even when I work the ground, it has more tilth to it than I've seen in years."
As part of Chris's program, he has been applying Titan on dry fertilizer before planting, then running Accomplish LM with starter in furrow. In the fall, he runs Accomplish LM with nitrogen and works the ground. Chris recognizes that continuous corn contributes to the fertility in the field by moving minerals to the surface through residue. But his other corn on corn acres aren't doing as well as those where he uses Titan and Accomplish LM.
"In fall 2013, we were in the low- to mid-100s [lbs per acre] on potassium and low- to high-20s for phosphorus. From a fertility standpoint, there were really no available nutrients there for the crop," says Chris. "Then, when you look at the soil samples from January 2015, we're at the mid-60s for P and over 300 for potassium, and that's after we took off a 230 bushel corn crop. By February 2016, my potassium was in the 400s and phosphorus continues to rise, right on the heels of the fall harvest of a 260 bushel corn crop in 2015. At the fertility rates being run, that's just not what I'm expecting to see."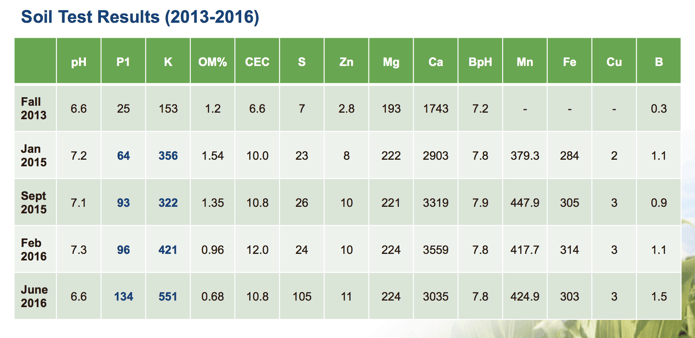 Abbreviations: BpH=buffer pH; OM=organic matter. Nutrient values reported as lbs/acre unless otherwise specified; averages are taken from 2.5-acre grid samples.
"Putting it another way, over the course of three years, I've put on 500 lbs of DAP—about 230 lbs of phosphate—and harvested three corn crops. Technically, there wasn't enough fertilizer in there to have the soil test at 96 lbs per acre this February from the 20s back in 2013," says Chris. "When you calculate what we took away with the grain, it's about 235 lbs of phosphate. Those three crops only got 230 lbs and we went up almost 70 lbs in the ground."
To check how much nutrient release he might be getting from stover, Chris compared nutrient values with his other fields in corn on corn production.
"Where I just work the ground and don't apply Accomplish in the fall, my potassium levels increased by about 30-50 lbs per acre in corn on corn rotations. But where I run Accomplish with nitrogen, the levels have increased over 100 lbs per acre," explains Chris. "My soil nutrient levels speak for themselves. I keep doing the math and looking for explanations on why our fertility rates are getting better, and I really think it has something to do with these products."
"I've got another field that I've now added to this study," he adds. "So far it's looking in line with these results."
You can hear more from Chris and find out what Dr. Fred Below of the University of Illinois thinks Chris is doing right in this Grower Story video.
Download Agricen's Accomplish LM Product Booklet to learn how the proven technology in Accomplish LM helps growers get more out of their crop fertility programs.