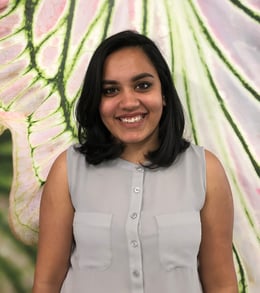 We are happy to welcome Smrithi Rajagopal as Agricen's Solutions Innovation Manager.
Smrithi will focus on determining the feasibility of commercializing new and emerging technologies, working with different stakeholders to identify customer needs and validate business and technical requirements for targeted plant health solutions. She will also manage and lead multidisciplinary project teams to advance the development and market introduction of new plant health products and technologies.
"Smrithi brings the right balance of product marketing, project management and scientific skills to advance our processes for bringing plant health solutions to market," said John Wolf, Agricen's Senior Director of Innovation. "She will also play an instrumental role in developing and implementing new education programs for our client customers to help them fully understand the role and functioning of our sustainable biocatalyst technologies."
Prior to her new appointment, Smrithi was a process engineer and research associate with Agricen Sciences, Agricen's sister company. Previously, she was a graduate research assistant at the University of Cincinnati. She holds a Master of Science degree in Innovation and Entrepreneurship from the University of Texas, a Master of Chemical Engineering degree from the University of Cincinnati and a Bachelor of Technology degree in Chemical Engineering from Anna University in Chennai, India.
Please join us in welcoming Smrithi!
---
Explore some of Agricen's commercialized technologies by downloading the Biocatalyst Technology FAQ booklet.