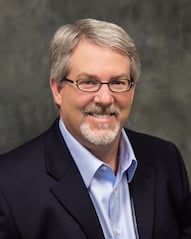 With plant health innovation at the core of our business, we are pleased to announce that John Wolf has been appointed as Senior Director of Innovation. In this role, John will define, identify, and lead new innovation initiatives and strategies, with a focus on developing new technologies to improve plant health in agriculture and related industries.
John rejoins Agricen after serving for four years as general manager of CH Biotech R&D Co., a developer of plant health and nutrition technologies that is also a strategic partner of Loveland Products.
"John's recent experience running a research and development-focused company is a tremendous asset as we develop and commercialize new plant health technologies and grow into new markets and geographies," said Michael Totora, Agricen's President and CEO.
Previously, John directed commercial development at Agricen. He has also held several management positions at Loveland Products, with responsibilities spanning sales, technical support and marketing within the company's plant nutrition business and sales and marketing of specialty agricultural chemicals in Asia. Earlier in his career, John served as general manager at Applied Spray Technologies and as product manager for the adjuvants and micronutrients business of United Agri Products.
Please join us in welcoming John!
---
Learn about Agricen's innovative technologies by accessing our Biocatalyst Technology FAQ booklet.