In the past 50 years, science, technology and economics have dramatically changed family farming. But the connection to the land and the choice to farm still passes from generation to generation. In this blog series, we'll feature two generations of the Orr family, who maintain a strong connection to the land their relatives first began to farm over a century ago in Iowa.
Meet the Orrs: Farming the Land for Five Generations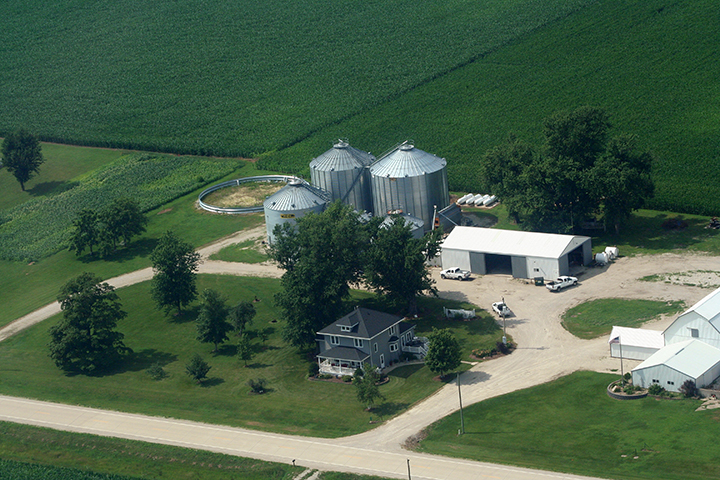 Jim and Janet Orr are proud Iowans who run a Century Farm—a rare and officially recognized entity that has been continuously owned and farmed by the same family for at least 100 years. They are joined by their son, Jason, who works on the farm and manages a nearby livestock operation. Their other son, Jamie, also remains connected to agriculture and his farming roots, working as a Division Manager for Crop Production Services (CPS) (now Nutrien Ag Solutions).
"My great-grandfather purchased the land and started farming it in 1897," says Jim. "Today, Janet and I own 40 of the original acres, rent the remaining original acres from my dad, and farm an additional 2500 acres, growing all corn. We also raised hogs and cattle in the past, but now are strictly grain."
Like most family farmers, Janet helped Jim do everything in the beginning, from driving the tractor to operating the grain cart in the fall. Today, Janet handles the bookkeeping for the farm and family, while Jim focuses on operations, production, and ways to make their business more efficient.
"The way we farm has changed a lot since I started. Now, technology and new products allow us to increase production and efficiency, while maintaining and even improving the condition of the soil," says Jim. "To learn about new ways to grow, we used to just read magazines and talk to friends and other farmers. Today, we still talk to other growers, but we also need to attend meetings and spend time doing research on the Internet just to keep up."
As Jim mentions, one of the keys to their success on the Orr farm has been the application of new technologies as they become available. The family began computerizing their bookkeeping in the 1980s and have used a yield monitor in their combine since 1996. GPS steering systems, variable rate planting and mapping are now standard. Starting in 2009, the Orrs began using Accomplish LM, Agricen's liquid fertilizer catalyst. They use Accomplish LM for corn-on-corn residue, yield benefits and overall nitrogen management.
"We first tried Accomplish LM on a small test plot to see whether it would make a difference," says Jim. "We liked the results and started applying it to the entire corn crop, where we saw increases in yield. We also noticed it had a positive effect on water quality, meaning there isn't as much nitrogen runoff. Last year, we banded two quarts of Accomplish LM with UAN 32%, Thio-sul, and BlackLabelZn over the row post-plant, and we used Accomplish LM on our corn residue in the late fall."
Find out in part two of this series how Jim and Janet's sons, Jason and Jamie, have continued the family tradition of farming and agriculture, and how they are using new technologies to increase the efficiency of farm inputs and improve the soil for future generations.
Learn more about Accomplish LM by downloading the Accomplish LM product booklet.