Read this Q&A for a brief introduction to IBA, kinetin and other compounds that aid in plant growth and functioning—and learn how they can help optimize plant performance.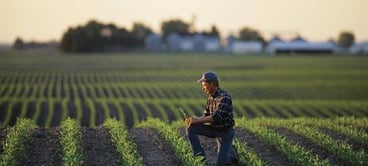 What are IBA and kinetin, and how do they benefit crops?
IBA (which stands for indolebutyric acid) and kinetin are two different types of plant growth regulators or hormones. IBA is an auxin that is produced in the plant's leaves and shoots. IBA travels downwards to the roots and stimulates early and improved root growth, which increases plant vigor and the plant's ability to fight off stress throughout the growing season. Kinetin is a cytokinin that travels up the plant from the root tips, directing many physiological functions of plant growth.
IBA and kinetin (as cytokinin) are the active ingredients in Radiate®, which combines these two plant growth regulators in the optimum ratio to maximize the physiological processes in the plant that drive root and shoot growth. Radiate is designed to help crops develop longer, stronger, healthier roots to improve nutrient uptake. It can be used as a foliar application during the two- to six-leaf growth period (V2-V6) to jumpstart early season root growth and plant vigor, which can lead to gains in crop productivity.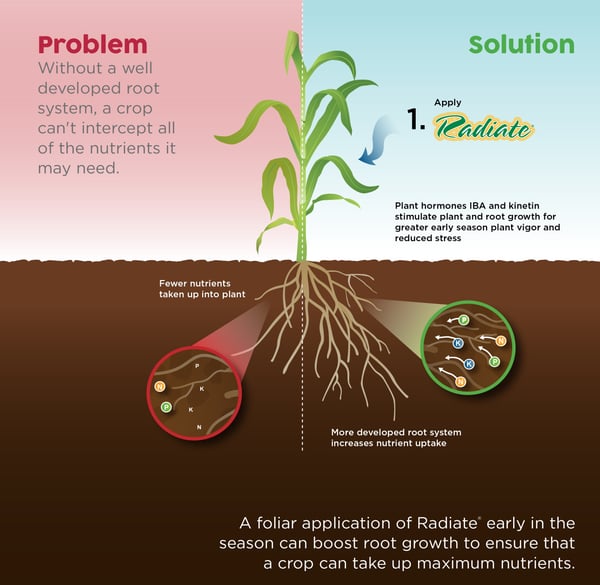 What is NutriSync® technology, and why is it important for plant health and performance?
NutriSync® technology is based on a naturally occurring compound that transports and remobilizes nutrients to areas of peak demand within the plant. By providing better uptake and utilization of important nutrients and delivering them to the new points of growth in the plant, this technology helps to increase overall plant performance.
NutriSync technology promotes nutrient mobilization to areas of high demand and supports better utilization of nutrients within the plant. These features create healthier plants throughout the growing season, which can lead to higher yields and a better return on investment.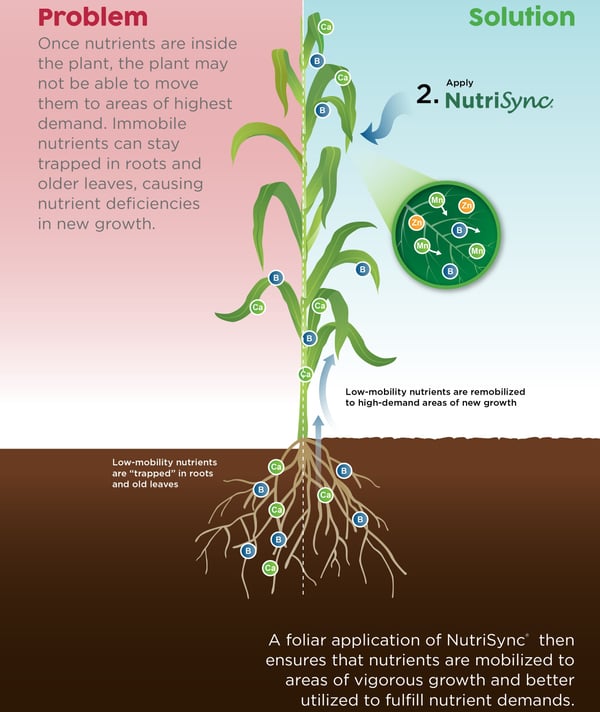 What synergies could I expect when using Radiate, which contains IBA and kinetin, with the technology found in NutriSync?
As IBA and kinetin increase root growth and development, the plant's ability to take up soil nutrients increases. After the nutrients are in the plant, NutriSync technology helps the plant move them to areas of new growth, where demand is highest. By using Radiate and NutriSync products together in the same season, growers can expect better root development, more efficient use of nutrients, stronger overall plant performance and an excellent return on investment.
Radiate and NutriSync are registered trademarks of Loveland Products, Inc. Radiate is not registered in California, and is not approved or intended to be used or sold in California.
Browse Agricen's collection of resources, which includes product studies, publications, videos and infographics.