In the NCGA's 2022 National Corn Yield Contest, nearly three dozen winners used Agricen's biocatalyst technologies in their winning programs. They include four farmers who took top places at the national level and 31 who took top places in their states. 🏆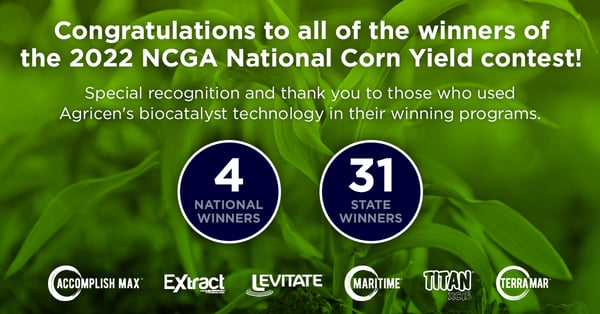 The winning growers used one or more of the following products in their corn fertility programs: Accomplish MAX, Extract PBA, Levitate, Maritime, Terramar and Titan XC. All of these products are available from our partner, Loveland Products, through Nutrien Ag Solutions.
Corn Yield Winners
National corn yield winners include Virginia farmer Heath Cutrell, who, with a yield of 394.05 bu/acre, earned first place in the "Conventional Non-Irrigated" category. His yield was also the highest overall corn yield in this year's contest. Heath was previously featured in Agricen's Last Stand film.
Other national winners who used Agricen's technology include Chad Henderson of Alabama, who placed second nationally in the "Conventional Irrigated" category with a yield of 333.04 bu/acre, and Temple Rhodes of Maryland, who took third place in the nation in the "Strip, Min, Mulch, Ridge-Till Irrigated" category with a yield of 344.94 bu/acre.


Soybean Yield Winners
Agricen's biocatalyst technologies were also a part of several winning soybean programs. The top place winner of the Pennsylvania Soybean Yield Contest and two first place winners of the Michigan Soybean Association Yield Contest all used at least one of Agricen's technologies in their soybean fertility programs:
A. Dale Herr, Jr., 1st Place, Overall & South Central Region, Pennsylvania - 97.49 bu/acre
Don Stall, 1st Place, Overall & Late-Maturity, Michigan - 98.88 bu/acre
Jim Schaendorf, 1st Place, Mid-Maturity Non-Irrigated, Michigan - 89.40 bu/acre
We are proud to be part of all of these growers' winning programs and wish them the best of luck this season.
Learn more about the technologies used in the winning programs by downloading the Sustainable Technology Overview.