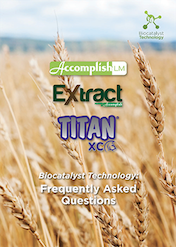 Accomplish LM, Extract PBA and Titan XC are biocatalyst technologies available from Loveland Products through Nutrien Ag Solutions.
Powered by a naturally derived biochemical technology, these products are designed to increase nutrient availability from applied fertilizers, promote nutrient mineralization in the soil to increase existing nutrient availability, and support root growth through biochemical interactions with the plant and soil.
You can learn more about these products for agriculture by downloading our booklet, "Biocatalyst Technology: Frequently Asked Questions."
The booklet explains:

What the products are, how they work and when to use them

How biocatalyst technology can help growers increase nutrient use efficiency and get more out of their fertilizer investment