Recent corn and soybean trials from the Bruce Research Farm at Hopkinsville, Kentucky highlight the opportunities for yield success with Titan XC on dry fertilizer.
In corn, a replicated trial demonstrated a yield increase of +9.5 bushels per acre when dry fertilizer (300# 9-23-30) was treated with Titan XC and compared to untreated dry fertilizer, with a calculated net return of $31.48 per acre. (The ROI calculation assumes corn at $4.05 per bushel.)
Even with a reduced rate of fertilizer (90% of the standard rate, or 270#), treating the fertilizer with Titan XC produced a yield increase of +6.3 bushels per acre, for a net return of $24.93 per acre.
In soybeans, Titan XC was applied to 200# of 9-23-30 fertilizer. Similar to the corn trials, it led to a yield increase of +9.5 bushels per acre compared to the untreated dry fertilizer, for a net return of $94.99 per acre (assuming soybeans at $10.50 per bushel).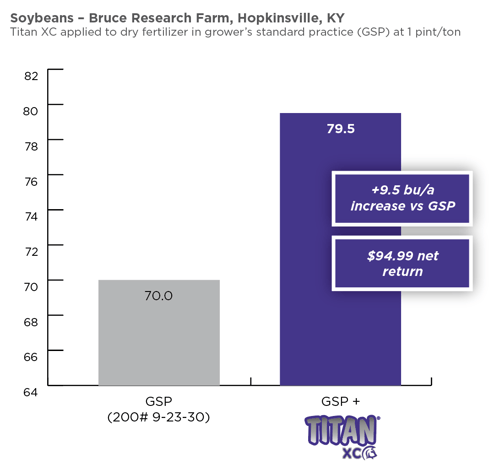 Dry fertilizer is one of the largest investments made in a grower's production program each season, but it can also be highly inefficient. Growers, therefore, can benefit from technologies that enhance their dry fertilizer efficiency.
With a proven track record of performance over a range of geographies, genetics and management systems, Titan XC is designed to help you get the most out of your applied dry fertilizer. Utilizing unique biochemistry to increase nutrient availability from treated prills, it can enhance the efficiency of dry phosphorus and potassium blends—turning your dry fertilizer into a driver of performance for your farm.
With Titan XC on your dry fertilizer, more of your applied nutrients will be available to your crop, which can help you drive yield on every acre.
Learn more by downloading the Titan XC Drives booklet.