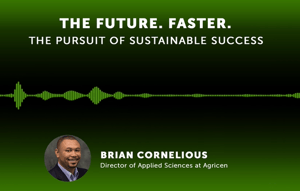 As growers start crop planning for the upcoming season, where do fertilizer enhancers fit in?
In a recent episode of Nutrien Ag Solutions' "The Future. Faster." podcast, Agricen's Dr. Brian Cornelious discusses where different fertility enhancement products—specifically Accomplish MAX, Extract PBA, Maritime, Prologue, and Titan XC—fit into growers' programs to help them more strategically manage their inputs.
"A lot of the Agricen products are very focused on nutrient efficiency and nutrient availability. And then, of course, we've got other products that focus on stress mitigation," says Brian.
One of the newest products developed by Agricen and available through Nutrien Ag Solutions is Accomplish MAX for liquid starter fertilizer enhancement. Accomplish MAX can help crops better tolerate the effects of environmental stress, while also improving nutrient availability in the soil and uptake by the plant—with the ultimate goal of a healthy, high-yielding crop.
"If a grower is using an in-furrow or 2x2 application of liquid fertilizer, all he's got to do is bolt that Accomplish MAX technology into that application," Brian says. "One of the things we do at Agricen is we try to be tuned into the grower environment. If we're coming out with a solution, we'd like for it to be a solution that a grower is actually going to implement. We also want it to fit something the grower's already doing."
Titan XC is another easy fit into a grower's existing fertility program. This popular product is specifically designed for application on dry fertilizer blends to increase fertilizer efficiency.
"Titan XC is designed to break down dry fertilizer to make the fertilizer more available to the crop faster," he says. "Because what we often see is that dry fertilizer is not that efficient. So the Titan XC helps with the accelerated breakdown and increased availability of nutrients in those dry blends."
Brian also gets into the details on Extract, Prologue, and Maritime. Extract is designed to help free up nutrition that may be bound in the soil profile and not available to the crop. Prologue helps to increase phosphorus availability while also serving as a zinc source. Maritime is a solution of biologically extracted kelp that can help crops better tolerate stress. The technology in Maritime is also found in Accomplish MAX.
"With Extract, we can do a broadcast application across a manured field, or we can do it with a weed and feed. There are also sidedress opportunities," Brian says. "Prologue is generally designed to go in-furrow with a starter blend, whether it's 10-34-0 or an ortho blend, where zinc is needed in that system. Maritime can be applied as a foliar spray, or that same technology can be used in a starter application in the form of Accomplish MAX. It does a very good job of allowing plants to manage stress."
You can listen to the full podcast here.