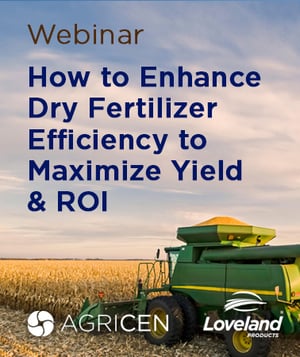 How can growers enhance the efficiency of their fall-applied dry fertilizer blends to maximize yield and return on investment?
Watch our on-demand webinar, "How to Enhance Dry Fertilizer Efficiency to Maximize Yield & ROI," to hear:
H

ow to enhance the efficiency of your fall dry fertilizer application




W

hat you can do to improve nutrient recovery after applying dry fertilizer blends




How to increase yield and return on investment in any crop production system with Titan XC on your dry fertilizer blend
The nutrients in dry fertilizer prills are not highly available to the crop as applied. To become available for crop use, they must first be converted into a plant-available form.
Titan XC is a fertilizer biocatalyst designed to expedite this process and unlock the potential of dry fertilizer programs. When applied to fall- or spring-applied dry fertilizer blends, Titan XC can expedite nutrient availability and uptake, enhance nutrient use efficiency and improve nutrient recovery from the applied fertilizer and from the soil.
In an analysis of 125 third-party and side-by-side trials conducted over the past decade, the average yield increase gained by treating dry fertilizer blends with Titan XC was +10.9 bu/a in corn (73 trials), +3.9 bu/a in soybeans (30 trials) and +4.0 bu/a in wheat (22 trials) as compared to yields with untreated dry fertilizer.
By giving crops greater access to the nutrition they need, Titan XC can help boost crop yields and increase a grower's return on investment.
Titan XC is exclusively available from Nutrien Ag Solutions.
Watch the webinar today to learn how to maximize dry fertilizer efficiency this fall with Titan XC.