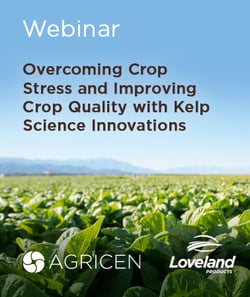 Our recent webinar, "Overcoming Crop Stress and Improving Crop Quality with Kelp Science Innovations," is now available to watch online.
During the on-demand webinar, you'll learn about:
The role of kelp technologies in agricultural production
New, biological methods of kelp extraction and how they have advanced kelp science
A new kelp technology, Maritime®, and how it can help improve crop quality and increase abiotic stress tolerance

You'll also see recent trial work in a variety of specialty crops, which shows how Maritime performs in field conditions.
Watch this on-demand webinar today to learn about new kelp science innovations and the kelp technology in Maritime.