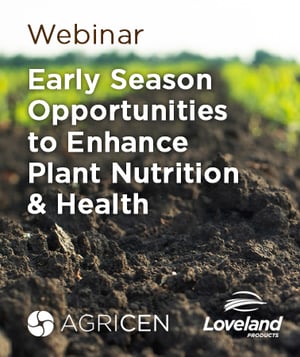 How can growers optimize early-season crop health and get more from their investment in their fertilizers, crops, and soil?
Watch our on-demand webinar, "Early Season Opportunities to Enhance Plant Nutrition & Health," to hear:
How Accomplish MAX and Extract PBA improve nutrient availability in the soil
Where these biocatalyst products fit into spring crop plans
Details from recent corn and soybean trials
Accomplish MAX combines proprietary biocatalyst technology with kelp technology to give growers "More Nutrients, Less Stress." It can be applied with liquid starter fertilizers in-furrow or 2x2 to enhance nutrient availability from starter fertilizer blends while protecting the developing crop from abiotic stresses like cold temperatures, drought and salt (including fertilizer salts).
Extract PBA contains biocatalyst technology for enhanced nutrient release and mineralization paired with ammonium thiosulfate (ATS), a source of nitrogen and sulfur. Designed for broadcast use (including application with soybean or corn pre-emergent chemistries, burndown chemistries and sidedress UAN, or applications to manures, litters or crop residue in the field), it helps "Unlock More Nutrition" by aiding with conversion or recycling of residual nutrients in the soil or in surface crop residues. It also improves nutrient availability and uptake of nutrients from liquid fertilizers.
With an in-furrow application of Accomplish MAX or a broadcast application of Extract PBA, growers can put their nutrients to work this spring. As part of a balanced crop nutrition program, they can increase nutrient use efficiency and help growers reach their yield goals—making them an important part of the equation for high yield and return on investment.
Accomplish MAX and Extract PBA are exclusively available from Nutrien Ag Solutions.
Watch the webinar today to learn how Accomplish MAX and Extract PBA can enhance spring fertility programs and help you maximize crop yield and ROI.