In an irrigated corn trial conducted in Benzie county, Michigan in 2022, adding Accomplish MAX to the grower's standard practice (GSP) starter fertilizer led to impressive yield results.
Accomplish MAX was added to the GSP starter fertilizer at two different rates (1 pint/acre and 1 quart/acre, the recommended rate) and then compared to the GSP alone. The GSP 2x2 starter fertilizer blend consisted of UAN 28% (7.5 gal/acre), ammonium thiosulfate (ATS, 3 gal/acre), 10-34-0 (7.25 gal/acre), and Pro Zinc 10+ (0.25 gal/acre). The grower's fertility program also included a dry fertilizer broadcast application of 46-0-0 (300 lbs/acre) plus 0-0-60 (100 lbs/acre) applied over corn stubble. The field was no-till, corn on corn.
Adding Accomplish MAX at either rate provided both a yield advantage and a return on investment (ROI) for the grower.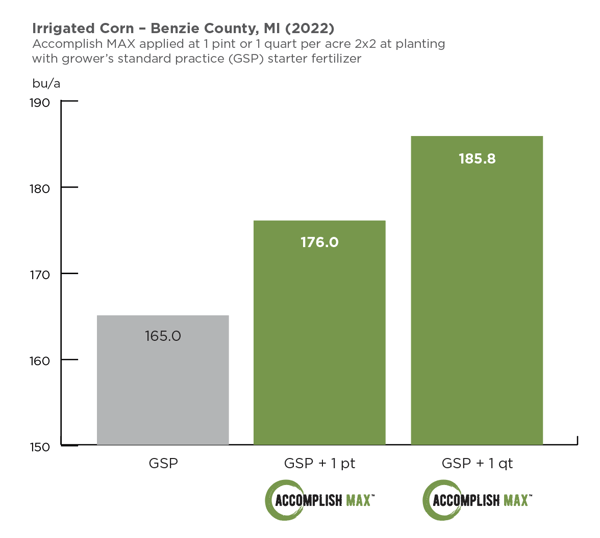 At harvest, the average corn yield with the GSP starter fertilizer alone was 165.0 bu/acre.
Where Accomplish MAX had been added at the 1 pint rate to the GSP, the average corn yield was 176.0 bu/acre, for a yield advantage of +11.9 bu/acre equating to an ROI of 6:1 compared to the GSP.
Most impressively, where Accomplish MAX was added to the GSP at the recommended 1 quart rate, the average corn yield was 185.8 bu/acre, for a yield advantage of +20.8 bu/acre over the GSP alone. At the time this trial was conducted, that yield advantage equated to a grower ROI of 12:1.
At planting, row crops are up against environmental challenges that include cold temperatures, fertilizer salts and more. Accomplish MAX can be used with liquid in-furrow starter fertilizers to help crops better tolerate these stresses while also increasing nutrient uptake, so that growers can help their crops live up to their full potential while also pushing their yields to the next level.
Learn more about Accomplish MAX by downloading the Accomplish MAX product booklet.