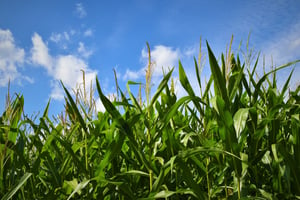 In the fall of 2017, Benjamin Rice, a crop consultant for Nutrien Ag Solutions in Sidney, Illinois, was faced with a challenge.
He typically recommended Titan XC to his grower customers as a treatment for applied dry phosphorus and potassium fertilizers to help increase yield and profitability. Making the case for using this fertilizer biocatalyst was easy with growers who were blanket spreading dry fertilizers, but demonstrating the value of Titan XC was more complicated with a customer who used variable rate (VRT) applied fertilizer and did not want to pay more for the Titan XC technology. Benjamin needed to figure out a way to prove that Titan XC could have a nutrient efficiency and yield benefit when used with his customer's VRT fertilizer.
Benjamin and his grower devised a large, split-field trial consisting of 320 acres over five fields. Half of the acres would be treated with the grower's standard program (100% VRT-applied P & K), and the other half treated with Ben's program (90% VRT-applied P & K plus Titan XC). The trial was designed so that both programs were identical in cost to the grower.
Two of the fields were spread with each fertilizer program in the fall of 2017, and the remaining three fields were spread with each program the following spring, in 2018, with no additional applications planned for the trial period. Corn was planted in the spring of 2018.
Yield Results in Corn
At harvest, Titan XC proved its worth. Compared to the grower's standard VRT program, the VRT program with Titan XC-treated fertilizer resulted in an average corn yield increase of +6.8 bu/acre over the five fields, for a net revenue of $23.80/acre (based on corn at $3.50/bu).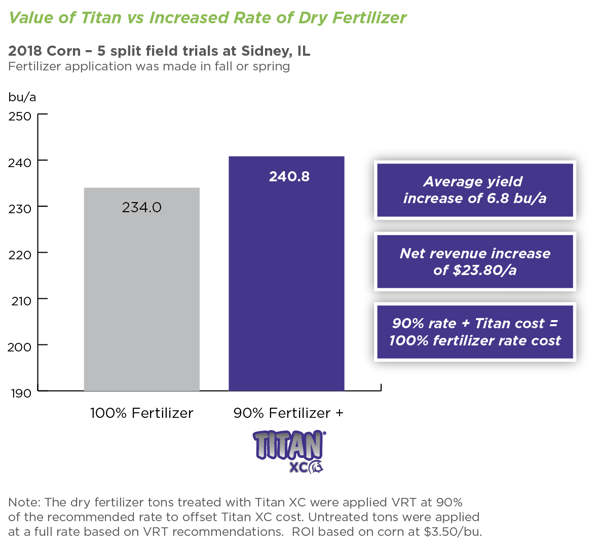 One Application, Two Years of ROI
No additional fertilizer was spread in the fall of 2018 or spring of 2019 for the 2019 soybean crop planted in the trial fields. Even so, Ben's customer recorded a +2.6 bu/acre soybean yield increase where the Titan XC program had been applied the previous year, for an added return on investment of $22.10/acre (based on soybeans at $8.50/bu).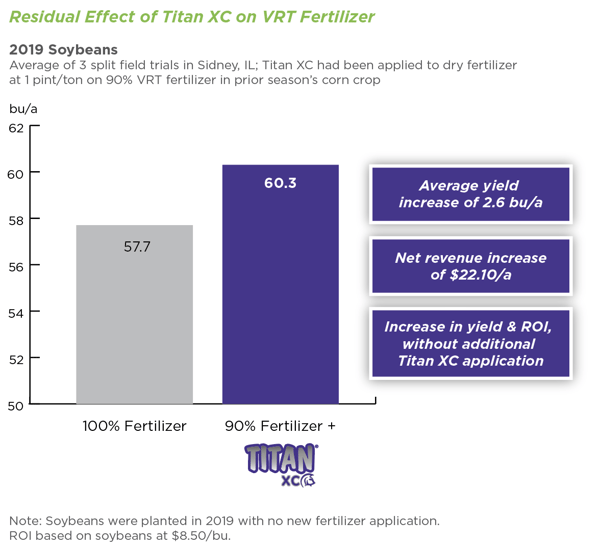 Summary
In this split-field trial, one application of Titan XC-treated VRT fertilizer resulted in increased yields and profit for the grower over two seasons. The two-year total ROI with VRT fertilizer spread with Titan XC was ~$45.90/acre in this corn/soybean program, with no cost to the grower for the Titan XC technology. With a planned trial period of four years, Ben and his customer continue to analyze the potential for greater nutrient efficiency and higher yields with Titan XC, and the grower is eager to try this biocatalyst technology on his untreated fields at the trial's end.
Learn more about Titan XC by downloading the Titan XC product booklet.