In a Dyna-Gro corn plot harvested near Cozad, Nebraska, treating MicroEssentials SZ (MESZ) fertilizer with Titan XC led to a 14.4 bushel per acre increase in corn yield compared to untreated MESZ. The corn was harvested on September 20, 2017.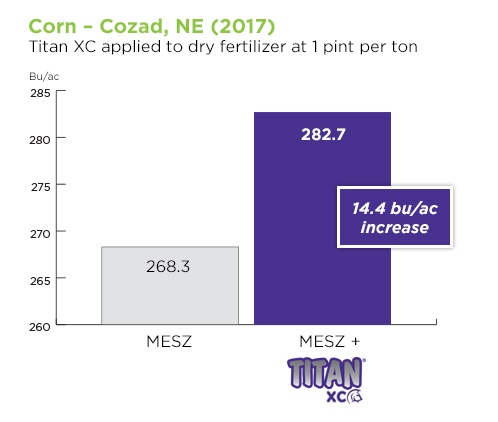 In the trial, MESZ was applied at a rate of 120 pounds per acre. In the treated rows, Titan XC had been applied to the dry fertilizer at 1 pint per ton. Corn from the eight rows fertilized with Titan XC-treated MESZ yielded 282.7 bu/acre, while the corn yield from the eight rows sown with untreated fertilizer was 268 bu/acre. The previous crop was soybean.
To learn more about Titan XC, please visit the Titan XC information hub.