Soybean StartUp is a tank mix of Accomplish® LM and Radiate®, applied in furrow at planting. The goal is to get soybean plants off to a better, faster start and enhance productivity.

In trial after trial, this program keeps giving a standout performance in the field.

The soybean plants in the pictures below were planted on May 28th, 2015 in Greensburg, Kansas, by a grower who had trialed the Soybean StartUp program on half of his acres. The beans on the left were treated 2x2 with 10 gallons of 16-0-16-5 alone, while the beans on the right were treated 2x2 with 10 gallons of 16-0-16-5 and Soybean StartUp (1 quart of Accomplish LM with 4 ounces of Radiate in furrow). Pictures were taken mid-June.
With Soybean StartUp, the plants are bigger and healthier, and they have larger, better developed root systems compared to untreated plants.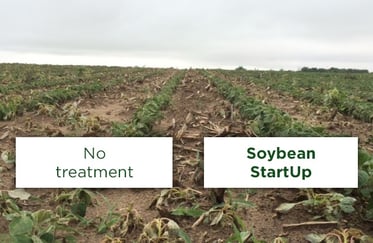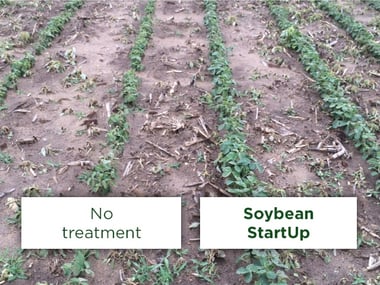 After seeing the difference between the treated and untreated soybeans, the grower of these beans is now going to use a Soybean StartUp program on all of his double crop acres.

Learn what this innovative soybean starter program can do for you by downloading the Soybean StartUp booklet or by watching the Soybean StartUp webinar.