An application of Extract PBA can help growers keep a tight focus on nutrient efficiency by powerfully releasing nutrients from residue for use by the coming crop.
In this side by side trial conducted in Fairbury, Illinois, one half of the harvested corn field was sprayed with Extract PBA in late September and the other was left untreated. There was very little moisture in the first 6 weeks after application, and photos were taken approximately 8 weeks after application.
As the photo shows, decay on the treated stalks was well advanced compared to the untreated check after only 8 weeks.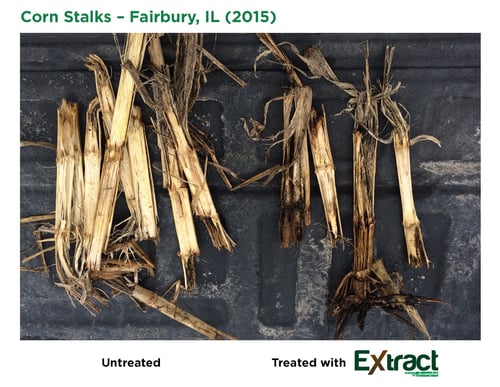 Extract PBA can be applied in the fall, broadcast on its own or applied with a burndown herbicide, or in the spring with any pre-herbicide or UAN program. Use it this season to make every nutrient count!

Learn more about using Extract PBA by downloading the Extract PBA product booklet.