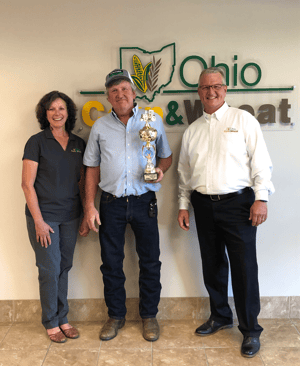 Cathy and Martin Quigley struck gold in the 2020 Ohio Wheat Yield Contest, coming in first in their district with a yield of 93.34 bushels per acre.
What were the keys to Quigleys' success? First, selecting the right wheat variety, the right planting date and the right rate was important. The Quigleys, who live in Clinton county, used Dyna-Gro 9862, a soft red winter wheat, which they planted October 7, 2019.
Having an effective and efficient fertility program was another key to their success. Agricen's biocatalyst technology was an integral part of the Quigleys' fertilizer program, with Titan XC applied at 1 pint per ton to their fall fertilizer blend and Extract PBA applied at spring topdress in a "weed and feed" application with UAN and broadleaf chemistry.
Mike Hacker, a Dyna-Gro Seed specialist and Nutrien Ag Solutions crop consultant based in Southern Ohio, assisted the Quigleys with the selection of their wheat variety and with recommendations for their fertility program.
Treating dry fertilizer with Titan XC is a sound agronomic practice that can provide a long-term benefit to farm productivity. Titan XC utilizes unique biochemistry to increase nutrient availability and enhance dry fertilizer efficiency. With Titan XC on dry fertilizer in the fall or spring, more of a grower's applied nutrients will be available to the crop to help drive yield.
Extract PBA, with an analysis of 6-0-0-13S, is a biocatalyst that is formulated to maximize nutrient release from crop residues and the soil. Growers can tank mix Extract PBA with herbicides for spring burndown applications, use it with liquid fertilizers to enhance spring broadcast applications, or spray it on crop residues in the fall to enhance nutrient release.
Agricen and Dyna-Gro Seed are proud to be associated with Cathy and Martin, helping them achieve the top wheat yield for Ohio's District 9 in 2020!
Update: Martin and Cathy Quigley were the District 9 wheat yield champions again in the 2021 Ohio Wheat Yield Contest—taking both first and second place with both entries coming in at over 100 bushels per acre. In their winning program, they used Extract PBA on their previous season's crop residue and Titan XC on their wheat fertilizer blend.
Learn more about Titan XC and Extract PBA by downloading the Frequently Asked Questions booklet.