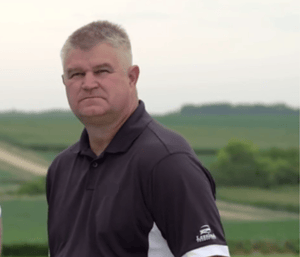 Nutrien Ag Solutions' Gregg Schmitz has witnessed transformational changes in agriculture–from the birth of modern crop protection to the growth of today's market for ag biostimulants and biologicals, even leading some of the early, pivotal field trials that brought Accomplish technology to Nutrien's row crop customers.
We recently spoke with Gregg about his take on this biocatalyst technology, and why growers who aren't already using Accomplish LM, Titan XC or Extract will want to consider adopting this biochemistry in their fields in 2020.
With a father who was part owner of an agriculture retail facility in Iowa, Gregg grew up in the ag business, working in both retail and wholesale during high school and joining the sales team when he graduated. In 1985, the business was acquired by United Agri Products—which ultimately evolved into Nutrien Ag Solutions. Currently, Gregg serves as Nutrien Ag Solutions' Marketing Manager for the Western Iowa, Eastern Nebraska, South Dakota Division.
Gregg is a sound agronomist who firmly believes in soil health. His 2007-2008 replicated trial results on Accomplish were the springboard for incorporating this technology into Nutrien's core fertilizer and plant nutrition business.
"In the summer of 2007, I got a call to evaluate a product called Accomplish LM that was then being used in California and other states, mainly on specialty or high value crops," says Gregg. "We decided to spray some strips in the fall of 2007 at a corn test plot we had north of Wall Lake, Iowa. To be honest, I was initially skeptical."
"In the summer of 2008, we started to see some visual differences at the V5-V6 stage of growth," he says. "In the area where we applied Accomplish, the corn leaf color was greener. Below ground, we saw more root mass with the Accomplish treatment. We had roots that extended at least three feet into the soil along with a more fibrous root system. We took these trials to yield and had good ROI on all of the applications we made."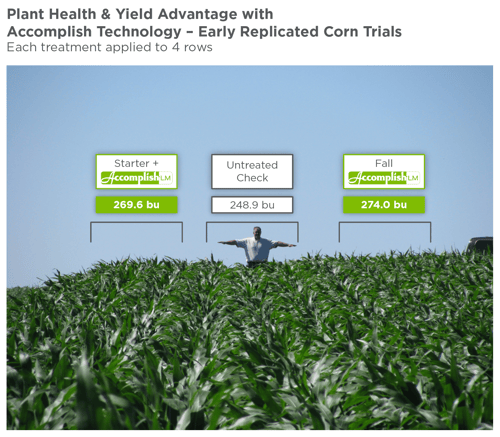 Gregg and his team had also sprayed a few strips on soybeans in the fall of 2007, using the Accomplish that was left over after spraying the corn test strips. He saw benefits with that crop, too, including seeing the soybeans retain their leaves longer prior to harvest.
"Going into the fall of 2008, we set up trials with key customers at each of our divisions to replicate our results on a larger, real-world scale," he says.
Based on observations from his initial Accomplish LM trial work (harvested in 2008) and from subsequent trials testing the technology with customers at different locations over a two-year period, Gregg's skepticism changed into a belief that Accomplish technology could enhance his grower customers' operations. Some of his observations from that period included:
More mellow, less compacted soils and less residue where Accomplish was applied, allowing for smoother tilling operation
A big visual difference in terms of more even color, plant development and tassel emergence–along with a 10+ bu/a yield response–in a large-scale trial testing Accomplish technology with UAN in a corn-on-corn field that had liquid hog manure applied the previous fall
Carryover effects on crop growth and yield into a second growing season–without additional Accomplish application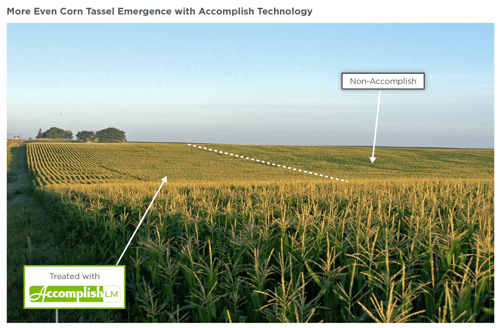 In an early trial testing Accomplish technology, more even corn tassel emergence
was seen where Accomplish was applied.
Today, Gregg uses a systems or solutions approach to help his customers maximize their ROI on every field, an approach that typically includes 1 gallon per acre of Extract (which contains Accomplish technology) each year. Since 2010, he has also used Titan XC on the majority of dry P&K applications. We asked him why he believes biochemistry is so important to soil health and sustainable crop production.
"There is a quote from Dick Goff, who was an agronomist from Midwest Laboratories in the 1980s. He always said, 'We cannot expect a plant's productivity to be greater than the foundation and health of the soil.' This quote always stuck with me, as it is about balancing everything we do," says Gregg.
"In my mind, biochemistry is the catalyst to delivering the balance we need to help our customers preserve their ability to maximize productivity and ROI on every acre they farm," he says. "With the Accomplish products, we see many of those benefits, like the development of the roots and the mellowness of the soil, both in the current crop year and even beyond."
With plenty of growers who haven't yet tried or adopted biological or biostimulant technologies, Gregg encourages them to explore the benefits of biochemistry for improving soil health and crop performance.
"There are over a decade's worth of trials showing how Accomplish biochemistry can benefit our growers," Gregg says. "Doing some hands-on research, even if it's outside of the normal row crop production, can be a good way to build confidence. One way I looked at the technology early on was by using it in my own garden and on my lawn."
"Make sure you dig plants and get your hands dirty," he adds. "It all starts in the roots and the soil."
Find out why the biocatalyst technology Accomplish LM, Titan and Extract makes a good addition to agronomic programs by accessing the biocatalyst technology booklet.