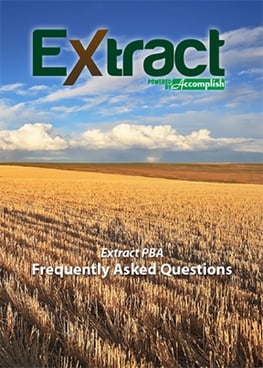 With spring on the way, growers are already thinking about their plans for a successful growing season. For those with crop residues on their fields, a spring (pre-emerge) application of Extract Powered by Accomplish™ (Extract PBA) is a great way to maximize nutrient release from those residues to get more ROI out of their growing program.
Extract PBA can be used in any residue situation, including:
Corn going to soybeans
Wheat going to soybeans
Wheat to wheat acres
No-till/minimum till corn on corn acres
Other crops planted in heavy residue from the previous harvest
Download our new booklet to learn more about using Extract PBA for nutrient release this spring and better ROI this season.
This booklet covers:
Answers to frequently asked questions about Extract PBA

Product description

Uses and rates

When to make an application