By Jeremiah Butler
As we enter planting time and growers make final decisions for the coming crop year, many growers will consider using in-furrow products. There are several reasons why they should research and consider in-furrow applications.
Many of you have heard Dr. Fred Below of the University of Illinois talk about his "Seven Wonders of the Corn Yield World." As we look at the factors below, we can see that there is no silver bullet. Attaining a high yield truly takes a systems approach!
Seven Wonders of the Corn Yield World and Their Potential Impact on Yield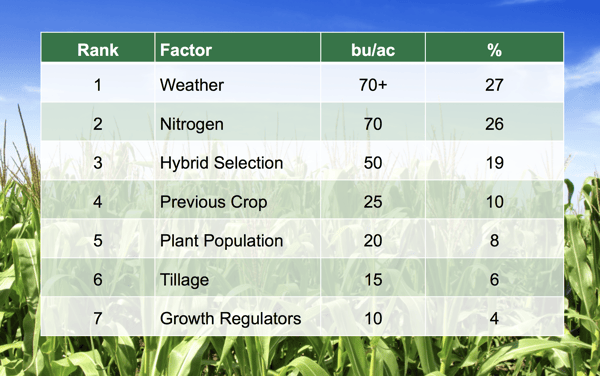 The value of each factor is presented in bushels/acre as well as a percentage of the total (260 bushels/acre). Source: U Illinois Crop Physiology Lab

Although in-furrow products are not included on his list of major factors that impact corn yield, Dr. Below was recently asked whether in-furrow products are important in an interview with Farm Industry News. Here is his answer:
"We are starting to see synergistic advantages of in-furrow technologies, where a fungicide is applied with an insecticide along with a starter fertilizer. These products enhance and protect the plant or seedling, and by having the nutrients alongside them, can start the plant off to a faster growth trajectory. Ultimately, I think we will have other growth-enhancing technologies that can go in-furrow. I think it is one of the next new things in agriculture."

So, when should growers consider a starter fertilizer? There are several scenarios in which an in-furrow product can make a lot of sense:
When cultural practices such as no-till or minimum tillage are utilized
On coarse textured or low organic matter soils
On poorly drained or cold soils
On low testing P and K soils
When nodal root systems are severally impeded by challenging growing conditions
When soil pH is unusually high or low
When substantial drought stress is likely
Loveland Products has a variety of in-furrow technologies that can be used as part of a systems approach to obtaining a healthy, high yielding crop. In addition to the starter fertilizers Levitate and Riser, these include:
We wish you the best of luck as you get growing this season.


Learn more about Accomplish LM by downloading the Accomplish LM booklet.