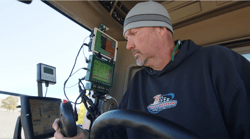 Jason Jaggers is a third-generation corn and soybean farmer in Wyanet, Illinois. When it comes to getting advice from his Nutrien Ag Solutions agronomist, Chad Taylor, he knows he has someone he can count on. Chad is not only his agronomist, but also his childhood friend.
"Chad and I grew up together. Now he's my Nutrien agronomist. If he brings a product to me, he knows it better perform," says Jason. "He's also a grower himself, so he understands that."
Two of the products that Chad has introduced to Jason are Titan XC and Extract PBA. They are biocatalyst technologies that help growers "do more with less" by enhancing nutrient use efficiency.
"As he's brought Titan, Extract and multiple other products to the table, they've all performed very, very well," says Jason.
In the fall, Titan XC on dry fertilizer is a particularly important part of the equation.
"If you're making a fall application of fertilizer, it needs Titan XC," say Chad. "Titan brings multiple levels of benefit...being able to take a growers fertilizer dollar and increase it by upwards of 20 percent."
On Chad's recommendation, Jason has used Titan XC on his fall dry fertilizer for the past decade.
"We've used it for probably the last 10 years in the fall," says Jason. "We tried it on a couple of farms the first year and instantly saw good results. Now I use it on 100 percent of my acres."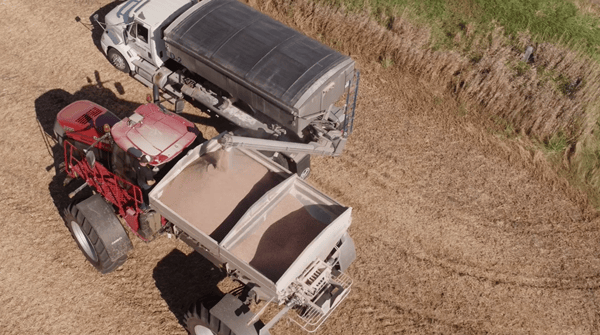 Getting ready to spread Titan XC-treated dry fertilizer.
Extract PBA is another product that Chad commonly recommends for corn and soybean producers. He has seen some outstanding results.
"I had a couple of growers say 'I can't raise beans on this farm.' We started utilizing Extract on the solution for corn years and on the residue for bean years. Now they're like, 'Wow, I never thought I would take 80+ bushel beans off this farm.' It's just been a tremendous turnaround in farm production," explains Chad.
On Jason's farm, Extract PBA is being used as a residue management tool on his corn stubble prior to planting soybeans.
"We're going to apply it on standing corn stalks that are going to go to soybeans next spring just to try to break down the massive amount of residue that we have," Jason says. "It seems that the residue is tying up more and more nutrients, so we're trying to get it to breakdown to get them into the soil profile for next spring."
One of the newer products that Chad is able to bring to the table for his grower customers is Accomplish MAX, which is designed for use with liquid starter fertilizer programs and combines the nutrient availability technology found in products like Titan XC and Extract PBA with a marine-based technology for stress mitigation.
"Everyone who's used it that I've talked to is seeing results. The stress mitigation factor of the kelp extract paired with the Accomplish technology has been a tremendous fit. Now you are getting a healthier, stronger seedling that's encountering less stress— whether it be from cold weather, starter fertilizer salt or salinity within the soil profile," Chad says. "There couldn't be a better coupling of what a new planted seedling needs trying to get up and out of the ground fast and uniform."
You can watch the video below, here or on our YouTube channel, to hear more from Chad and Jason.
Learn more about Accomplish MAX, Extract PBA and Titan XC by downloading the Frequently Asked Questions booklet.