Growers know that uniform corn emergence is a must for achieving great yields. Recent research shows that a delay in emergence of just 12 to 14 hours can affect yield potential.
In side by side field trials at three different locations led by North Carolina State University cropping systems specialist Dr. Ron Heiniger, an in-furrow application of Accomplish LM promoted uniform corn emergence, increased row and kernel number, and increased ear weight by 1/8 lb compared to check (10-27-0 applied in a 2x2 band). Uniform emergence was associated with higher yields: Accomplish LM increased the average yield by +11.5 bushels per acre.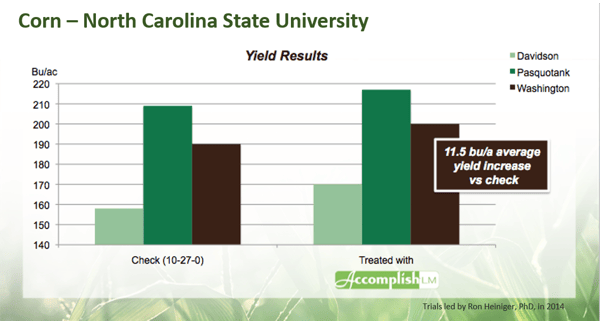 Accomplish LM is a nutrient use efficiency product that offers concentrated biochemistry tin an easy-to-handle liquid form. Formulated for broadcast and starter fertilizer applications, it helps growers get the most out of their crop fertility programs by increasing nutrient availability and uptake and by promoting root growth and development.
Use Accomplish LM this spring for more uniform crop emergence and the potential for higher yields at harvest.
Interested in more information on Accomplish LM in corn starter programs? Read our starter booklet.