One of the main reasons growers use Titan XC is to speed the breakdown of dry fertilizer prills, which makes nutrients more quickly available for crop uptake. Loveland Products recently conducted a quick demonstration to quantify the rate of enhanced fertilizer breakdown with Titan XC. The results show that Titan XC does what it says.
The demo compared Titan XC-treated versus untreated 6-6-18 fertilizer. The starting weight of each of the 8 samples tested in this demo (4 untreated and 4 treated) was 15 grams. All samples were submerged in distilled water for 72 hours, then screened off and weighed.
In every case, more Titan XC-treated fertilizer was dissolved compared to untreated fertilizer. Overall, Titan XC increased fertilizer breakdown by an average of 32%.
Untreated fertilizer prills (top row) vs prills treated with Titan XC (bottom row).
The average final weight of the Titan XC-treated samples was 2.32 grams, compared to 6.99 grams for the untreated samples.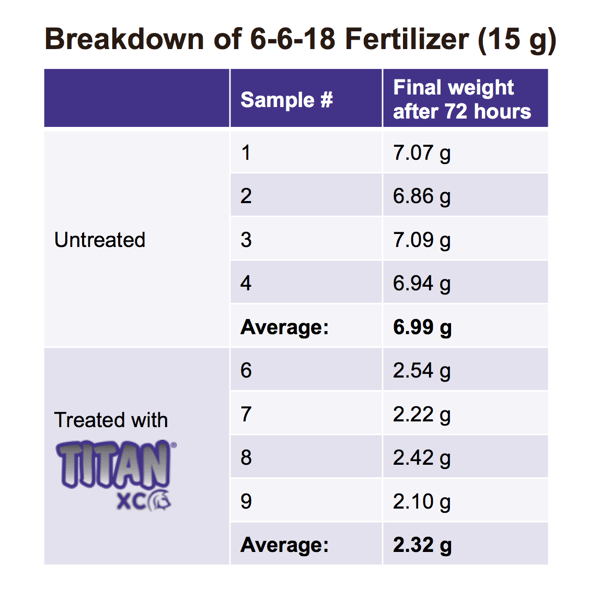 In addition, analysis of the distilled water after the fertilizer was screened off showed a 25-83% increase in nutrient content (depending on the nutrient) in favor of Titan XC versus untreated fertilizer.
Although there are many different variables at play when it comes to prill breakdown (e.g., things such as application timing, rainfall/soil moisture, or incorporated vs. no-till practices), this quick demonstration shows that incorporating Titan XC into a dry fertilizer application speeds prill breakdown and rapidly releases nutrients for plant uptake.
---
See more results by accessing our featured study on fertilizer prill breakdown with Titan XC.