Along with raising cattle, the DeBaillie family has been growing corn and soybeans in northwestern Illinois for over 65 years. Today, Randy, Rob and Russell DeBaillie, who are the third-generation of farmers in their family, farm around 6,000 acres of land in a longstanding no-till farming practice. Extract PBA is one of the products they rely on to help them run a successful operation.
Like other growers, the DeBaillies like to get their crops in as early as possible, usually in the last week in April. They typically plant corn at 36,000 seeds per acre in their highly productive rolling clay hills. Given their northern location in Orion, Illinois, harvest ordinarily ends around Thanksgiving.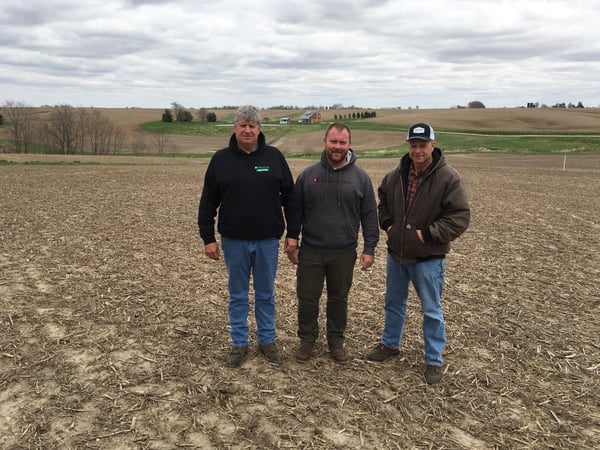 Rob, Russell and Randy DeBaillie of Orion, Illinois - on the farm and ready to plant in an Extract-treated field.
Mike Roegiers, a crop consultant with Nutrien Ag Solutions who has been the DeBaillie family's advisor for over 25 years, says that with their high yields and today's genetics, the DeBaillies needed an effective way to manage their corn residue so that they could get in their fields earlier than in the past.
"We don't have enough heat in the fall and early spring to rely on the residue from the high-yielding, fuller season hybrids naturally breaking down in time for that early planting window," says Mike.
About six years ago, the DeBaillies started a trial with Extract PBA to try to address this challenge, and today they spray it on all of their corn stalks. Bean stubble gets a vertical tillage tool in the fall. They also use Titan XC to treat their dry fertilizer on most acres.
"With Extract, the residue in between the corn stalk rows turns to dust now when the planter's residue managers hit them," say the DeBaillies. "We also get in the fields at least a week earlier than in the past."
This, in turn, helps them achieve an earlier harvest date.
When they look at their neighbors' fields, the DeBaillies have said they can see a difference in the amount of crop residue compared to their own fields, with corn stalk rows from two years prior still visible in the neighbors' bean stubble. They've also seen a yield impact in their soybeans planted after corn.
"Our soybean yields were rather flat before," they say. "Since we started using Extract, we see our yield averages constantly on an upward trend."
They believe a lot of this success is from earlier planting in drier and warmer soil conditions due to using Extract PBA.
Mike adds that Extract PBA has also made a significant overall improvement in the DeBaillies' farming operation by allowing earlier application of herbicide in the spring. They are now looking into applying Extract PBA with fall herbicide for soybeans to make early spring more efficient.
"In the old days, they may have had to let a field sit an extra couple days to dry," he remarks. "Now they have that little edge with Extract to make the field work earlier and much profitably all year."
Learn more about using Extract PBA to help manage crop residue by downloading the crop residue booklet.