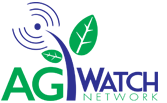 AgWatch spoke with Kent Moore, Proprietary Products Manager with Loveland Products and Nutrien Ag Solutions, about upcoming spring soybean programs and how they can benefit soybean farmers.
Kent Moore: "A program that we're looking at running with many of our growers is a product called Extract from Loveland Products, which we will combine with and put in with our soybean residual products as we burn down in front of soybeans.

The soybean residual products from Loveland that we're looking at are Matador and Intimidator, two proven products that are excellent at controlling small seed broadleafs, pigweeds species, and ragweeds. We're pairing those up with an application of Extract, which is a combination of our unique biochemical fertilizer catalyst and ammonium thiosulfate.

Extract helps enhance and speed up the rate of nutrient mineralization and release in the soil so that more nutrients are available to the plant for uptake this season, which should lead to overall enhanced plant performance and yield."
Download the Extract PBA soybean bulletin to see how Extract has performed in soybean trials across the Midwest.