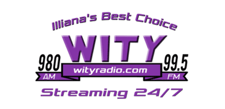 Agricen's Scott Lay recently spoke with Dennis Michelsen of WITY Radio about sustainable plant health technologies growers can employ this season to enhance yield and ROI.
Dennis - WITY Radio: Agricen has a booklet about the company's sustainable plant health technologies. Tell us more about that.
Scott - Agricen: Sustainable practices or technologies can be employed in real-life intensive managed production systems, and not at the expense of yield. They can enhance yield and productivity.

Our technologies, they either benefit the plant, benefit the soil, or both. If we can pair those technologies with traditional production practices, that's a win-win.
Dennis - WITY Radio: One of the products you talk about is Accomplish MAX. Sometimes when we get a later planting, the crop doesn't have a chance to get a good, deep root structure to get through those dry periods in the summer. Accomplish MAX could help avoid some of those stresses.
Scott - Agricen: Last year, Accomplish MAX was treated on nearly 2 million acres. It's an in-furrow product used with starter fertilizers, with an average 7 to 8 bushel yield response in corn. If you can minimize early season stresses and enhance the amount of nutrients available to the plant, that plant has a better chance of yield.
Dennis - WITY Radio: Extract PBA is about making sure you get all the benefit out of the nutrients you're already putting down in your soil.
Scott - Agricen: There are hundreds of dollars' worth of nutrients that every farmer in the US has already paid for, which are already in the soil profile or in the prior year's residue. Extract PBA is a broadcast application designed to accelerate Mother Nature's work in mineralizing those nutrients into a plant-available form.
Dennis - WITY Radio: Another product you have is Terramar, which my listeners might not be as familiar with.
Scott - Agricen: Last year we had an informal introduction of Terramar with tremendous results. It's a foliar or post application timing for corn or soybean crops. While we can't control temperature, precipitation or other environmental conditions, we know those environmental conditions have a tremendous impact on a crop's ability to yield. Terramar minimizes heat and drought stress to preserve the yield potential that exists in that corn or soybean plant.
Dennis - WITY Radio: And Terramar can be combined with other products that you're already going to be making the pass in the field with.
Scott - Agricen: If we can embed our technology in applications that are already taking place so that farmers don't have to alter what they are already doing, we've got a better likelihood of experiencing success.
Accomplish MAX, Extract PBA and Terramar are available from Nutrien Ag Solutions.
This interview was edited for length and clarity. You can listen to the interview below or on Agricen's YouTube channel.
Download the Sustainable Plant Health Technology Overview to learn more about Accomplish MAX, Extract PBA and Terramar.