As growers deal with tight budgets and carefully evaluate all of their input costs, a simple dry fertilizer demonstration shows why Titan XC is important to any operation's bottom line.
Prepared by Nutrien Ag Solutions in Cecilia, Kentucky, these jar tests shows the value that Titan XC brings when applied to dry fertilizers. As you can see in the photos, Titan XC has accelerated the breakdown of fertilizer prill in the treated jars, translating into greater nutrient release and improved fertilizer efficiency in the field. All photos were taken after three weeks.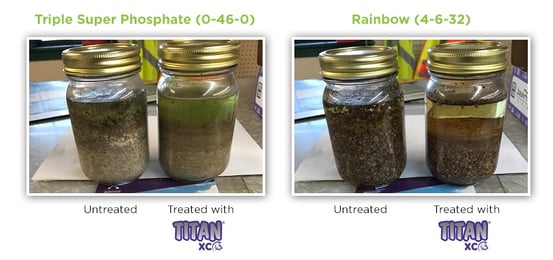 You can see similar results in this time-lapse video of fertilizer breakdown with Titan XC on 9-23-30, 11-52-0 and MESZ fertilizers.
Download the Titan XC product booklet or contact Nutrien Ag Solutions to learn more about using this biocatalyst technology for dry fertilizers.