Crop residue left on the soil surface after harvest can present both challenges and opportunities going into the next planting season. Potential tie-up of important nutrients, delayed nutrient recycling, and difficulty getting pre- and post-applied weed control coverage are some challenges growers may face. However, if crop residues are properly managed, there are great opportunities for nutrient release, improvement in soil organic matter, and soil moisture preservation.
Harvest and tillage equipment that mechanically break down residue are useful management tools, but adding a biochemical tool in the form of Extract PBA can also help growers manage and even benefit from surface crop residue, regardless of their tillage practices.
"Whether you want to release nutrients from the soil or break down your crop residue, Extract PBA does all the heavy lifting, delivering consistent ROI to the farmer," says Michael Bern, Nutrien Ag Solutions Location Manager in Galesberg, Illinois.
Applied in spring or fall, Extract PBA helps to speed nutrient recycling by accelerating the breakdown of organic matter on the soil surface using microbial-derived biochemistry, which allows growers to recapture more of their original fertilizer investment. By helping to decompose crop residue, Extract PBA can also facilitate more effective tillage and better seedbeds, with improved seed-to-soil contact at planting and better crop stands.
On-Farm Studies
In a trial near Edgar, Nebraska, Extract PBA was applied at 1 gal/acre in the spring with pre-emergent herbicide to assess its impact on dryland corn in a corn-on-corn rotation. Both the treated and the untreated parts of the field also had UAN 32 applied at 9 gal/acre. The photo below powerfully illustrates how this treatment can release nitrogen tied up in crop residue.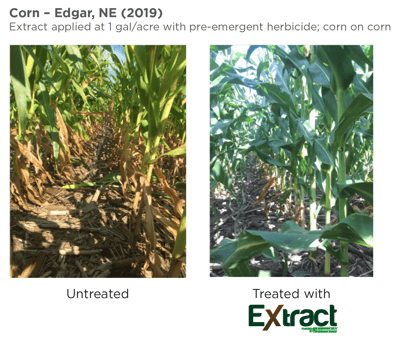 On the untreated side, not only is more residue present on the soil surface, but the lower leaves of the plant are also firing, a sign that the plant is nitrogen deficient. On the Extract PBA-treated side, there is less residue present on the soil and the lower leaves are still green and healthy. In this trial, the Extract PBA treatment led to a yield increase of +15 bu/acre compared to untreated.
In Essex, Iowa, the addition of Extract PBA (2 gal/acre rate) to the grower's standard program of UAN 32 (applied at 7 gal/acre) also had a big yield impact in continuous corn, with larger corn ears (seen below) and a yield increase of +22 bu/acre where Extract PBA had been used.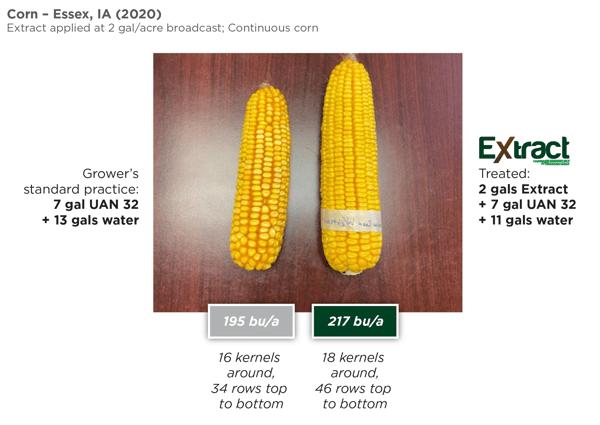 In another example, adding Extract PBA (1 gal/acre rate) to the grower's standard program led to corn yield increases of more than +8 bu/acre in the two fields shown below near Greensburg, Indiana. These fields had been continuous corn for roughly six years.
Compatible with Both Spring and Fall Applications
For those considering a spring or fall application, Extract PBA can be tank mixed with herbicides, including glyphosate, and applied with burndown. It can also be broadcast with liquid fertilizers.
By using Extract PBA to increase nutrient release from crop residues and the soil, growers will be set up for greater success in the coming season.
Learn more about the benefits of using Extract PBA in a corn program by downloading the Extract Makes Corn bulletin.