With the recent conclusion of the awards ceremony for winners of the NCGA National Corn Yield Contest at Commodity Classic, we wanted to take the time to congratulate all of the 2021 contest winners, with special thanks and recognition to those who used Agricen's biocatalyst technology in their winning programs.
In 2021, five farmers who came in top place nationally and 23 who won an award in their state incorporated one or more of the following products in their programs: Accomplish LM, Extract PBA, Levitate, Prologue, Maritime, and Titan XC.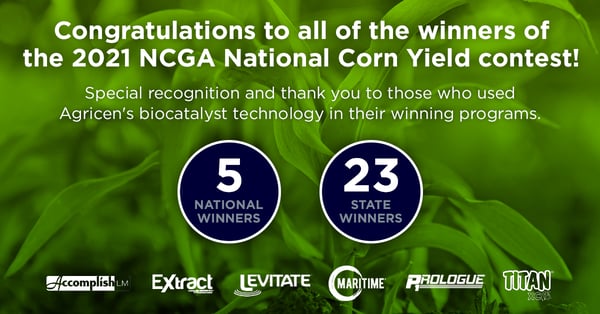 National winners included Michigan farmer Don Stall, who took first place in the "Conventional Irrigated" category with a corn yield of 465.77 bushels per acre, and Virginia farmer Heath Cutrell, who took first place in the "Conventional Non-Irrigated" category with a yield of 391.31 bushels per acre. Both growers may be familiar to you from our Last Stand feature-length film and related short films.
All of the Agricen technologies used in the winning programs are available from our partner, Loveland Products, through Nutrien Ag Solutions.
We are very proud to be part of these growers' winning corn nutrition programs and wish them all the best this season.
Learn more about some of the winning growers who use our technologies by watching Last Stand.