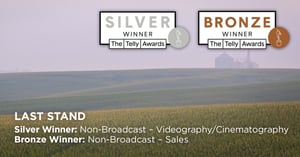 We are proud to announce that our farming film, Last Stand, and three related short videos took home Telly Awards this year. The Telly Awards honor excellence in video and television across all screens.
Last Stand, a movie about the joys and challenges of being a farmer that was filmed during the 2020 growing season, was recognized with both a Silver and a Bronze Telly. It is available to watch as both a short, 20-minute version and an in-depth, hour-long film.
The other Telly Winners were the short videos Religious Experience, You'd Never Go Without It, and The Whole World Can Benefit, which can be viewed below. All of the winning videos were produced by the team at Light Work Productions.
Religious Experience
Silver Winner: Non-broadcast - Lifestyle Category
American farmers talk about farming, family and what drives them every day. "I love farming. I still get up every morning excited to go outside and to do what I do. I don't think everybody can say that," says Heath Cutrell, who farms in Virginia and North Carolina. "The reward is the lifestyle," says Don Stall, who farms in Michigan. "I produce something that's tangible...and I see my efforts paying off. When you harvest and the yields are big, it's very satisfying."
You'd Never Go Without It
Silver Winner: Non-broadcast - Sales Category
How do you grow a crop that's bigger, greener and healthier? In this video,
growers who have produced some of the highest U.S. corn yields in recent years discuss their approach to farming and why they use Accomplish and Titan technologies in their crop production programs.
"Putting Accomplish in furrow, we do that on every acre of corn and soybeans.
The roots with Accomplish and without, if you saw that, you'd never go without it
," says Iowa farmer Kelly Garrett. The video also features growers Don Stall, Heath Cutrell and Kevin Kalb, and the University of Illinois' Dr. Fred Below and Connor Sible. "
There is a whole vast source of nutrients in the soil. And if we can make some of those more available, that has a real value
," says Dr. Below.
The Whole World Can Benefit
Bronze Winner: Non-broadcast - Sustainability Category
By better managing fertilizer inputs, growers can better take care of the land and water while also adding to higher yield and return on investment. In this video, you'll hear how Accomplish and Titan help growers increase their yields in an environmentally friendly and cost effective way. "Tissue samples don't lie, all the way up to the yield. Accomplish has been helping free up the phosphorus. It's a big win on our farm," says Indiana farmer Kevin Kalb. The video also features Iowa grower Kelly Garrett, Connor Sible and Dr. Fred Below of the University of Illinois and Nutrien Ag Solutions crop consultant Scott Brinkman. "We're out here trying to protect the water system, because it's the water I drink at night," says Scott.
Watch more videos from Agricen by visiting our YouTube channel or our Featured Videos page.