Agricen and Taranis, a precision agriculture company, have received a grant from the Israel-U.S. Binational Industrial Research and Development (BIRD) Foundation to collaborate on a project to advance and commercialize a new precision agriculture system for abiotic stress detection and prevention in row crops.
Abiotic stresses are environmental or physical impacts on a plant (e.g., drought, salinity, extreme temperatures, nutrient deficiency), and result in billions of dollars of lost crop value each year. The Agricen/Taranis collaboration will address this agricultural challenge by creating a solution that merges the Taranis platform—which incorporates field imaging technology and a deep learning algorithm—with Agricen's proven biostimulant technologies.
Once developed, the system will be able to be utilized in any geography to help detect and prevent abiotic stress in row crops, saving growers significant time and resources while increasing plant health and yield opportunities.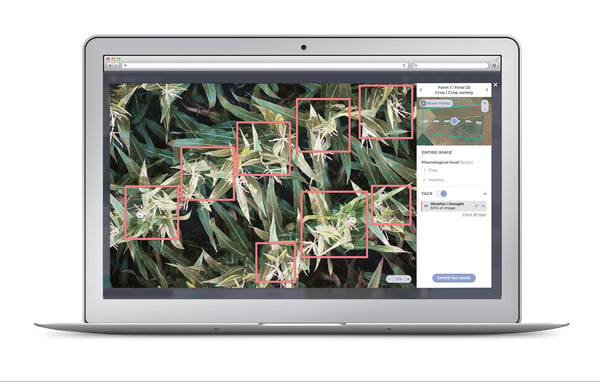 A simulation of the abiotic stress detection platform that will be developed is shown in the image above, with red boxes outlining the signs of drought stress in corn. Based on the stress identified, appropriate recommendations can be made—including the use of agricultural biostimulants—to both ameliorate the conditions causing stress and prevent further crop damage.
Learn more about Agricen's biostimulant technologies by downloading our Biocatalyst Technology FAQ.