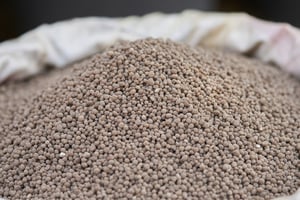 Growers make nutrient management decisions all season long. This includes the period just before and after harvest, when they need to decide whether a fall dry fertilizer application makes sense.
Growers who do decide to make a fall application face a significant challenge when it comes to dry fertilizer efficiency. This is because applied phosphorus and potassium fertilizers can be easily tied up by the soil chemistry. Even with the best program, only an estimated 10-30% of applied phosphorus and 20-60% of applied potassium will be available to their crop in the spring. This level of inefficiency is not good for the grower or the crop.
One way growers can better ensure that they are getting more out of the nutrition they apply is by treating their dry fertilizer with Titan XC, a biocatalyst technology that is specifically formulated to increase nutrient availability from dry fertilizers. This can have a positive impact on a grower's yield, as seen in the summary of corn, soybean and wheat trials from 2010-2019 below.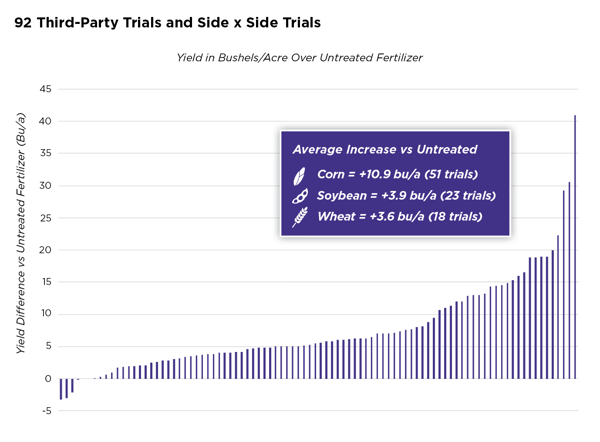 Proven on millions of acres across the country, Titan XC helps growers address the challenges related to dry fertilizer efficiency. Here's what some growers are saying:
"Every pound of potash that we put on, we also apply Titan XC with it...The biochemistry of Titan is the best choice for us to help solubilize the potassium and help get it into the corn plant." - Kelly Garrett, Iowa. Hear more from Kelly.
"I use Titan XC on my fertilizer since noticing a better root system and color on my crops versus the untreated fertilized acres." - Matt Minnix, Indiana. Hear more from Matt.
"I really like the biochemistry that Titan XC offers because I love the fact that I'm getting more out of my fertilizer and putting money in my pocket." - Allen Ehrman, Nebraska. Hear more from Allen.
An application of Titan XC on fall dry fertilizer is a great investment in the next season. Ask for it on your dry fertilizer today!
Learn more about using Titan XC to maximize the efficiency of dry fertilizer applications by downloading our booklet, "How to Get Better First-Year Nutrient Recovery Out of Fall Dry Fertilizer Applications."