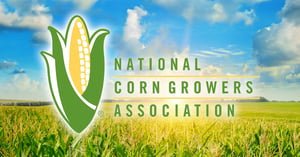 Today, we feature Kevin and Shawn Kalb of Dubois, Indiana, a husband and wife team who used Accomplish LM as part of their programs to win two non-irrigated categories in the 2017 National Corn Growers Association (NCGA) corn yield contest. With a yield of 386.16 bushels per acre, Kevin placed first nationwide in the AA non-irrigated corn category, while Shawn's yield of 354.13 bushels per acre put her in first place for AA no-till/strip-till non-irrigated corn.
Kevin Kalb: 1st Place — AA Non-Irrigated Corn
Shawn Kalb: 1st Place — AA No-Till / Strip-Till Non-Irrigated Corn
Location: Dubois, IN

Yield: 386.16 bu/acre (Kevin) & 354.13 bu/acre (Shawn)

Hybrid: Dekalb

Products Used: Accomplish LM

Serviced by: Scott Brinkman, Branch Manager, Nutrien Ag Solutions, Jasper, IN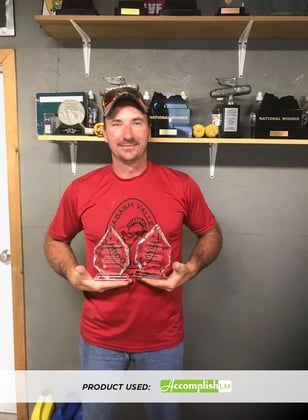 Kevin Kalb, winner of the 2017 AA non-irrigated corn category, is pictured above holding the trophies awarded by Agricen to him and his wife, Shawn. Shawn (not pictured) won the AA no-till/strip-till category.
Kevin and Shawn Kalb are fourth-generation farmers who began their corn and soybean operation in 1997. All of their acreage is dryland, and their typical practices are conventional tillage corn-on-corn and no-till corn following soybeans. The biggest limiting factor they face in their area is high humidity during the growing season, especially during grain fill. Although high humidity is good for plants during the day, at night it causes them to retain heat. This can have a detrimental effect on yield. Ideally, humidity would be lower at night to allow the corn to respire and "cool off".
Despite this challenge, the husband and wife team have maintained an impressive track record since first entering the NCGA corn yield contest in 2008. In 2011, 2014, 2016 and 2017, their corn yields placed them first in the nation, and they took second place in 2009, 2015 and 2016. They've also ranked within the top three NCGA corn producers in the state of Indiana on two occasions. In the 2017 competition, Kevin took first place nationally for non-irrigated corn (conventional tillage), while Shawn earned first place in the nation for non-irrigated/no-till corn. This was despite a major rain event that caused them to have to replant most of their acres.
"We had heavy rain on April 28th last year, after all of our corn was planted. That event wiped out all but 28 acres of our corn stands," says Kevin. "We had to replant, but we couldn't do it until May 15th. The saving grace was that we had very cool weather in August, with only one night where the low was above 70 degrees Fahrenheit. That weather set the stage for excellent grain fill and very heavy test weights."
Kevin says they've changed their approach to planting in the last four to five years to ensure that their corn plants get off to a good start.
"We don't plant by the calendar date. Instead we wait for 10 consecutive days of good weather before planting, as opposed to planting early and placing seeds in cold soil," he says. "The first 48-60 hours are critical for corn seedlings. 'Seedling chill' can occur if the young plants take their first drink and soil moisture is too cold."
Over the years, the Kalb's
fertilizer program has changed too, moving from anhydrous ammonia to dry fertilizer, then to their current fertility program, which is all liquid fertilizer. Part of that program also includes using Accomplish LM (2 quarts/acre) at planting in a 2x2 band with UAN and ammonium thiosulfate.
"Scott Brinkman, who is a crop advisor and branch manager at Nutrien Ag Solutions in Jasper, Indiana, encouraged us to adopt Accomplish LM into our fertility program," says Kevin. "We use it because it helps process nutrients into plant available forms and positively impacts the root systems of corn seedlings, helping to provide them with a good start. It works."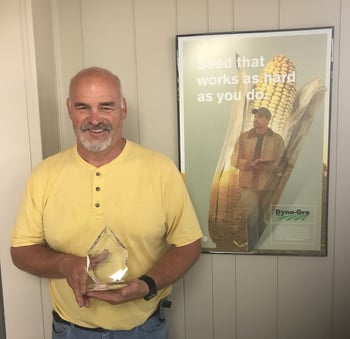 Scott Brinkman, Crop Advisor & Branch Manager at Nutrien Ag Solutions in Jasper, Indiana.
Kevin has also seen the product's positive impact on nitrogen efficiency across the farm. The corn in the contest plot had a nitrogen efficiency of 0.6 units of N per bushel of corn, and nitrogen efficiency over the entire farm was 0.7 units of N per bushel of corn.
"Shawn and I are very happy with our current production program and the suppliers that provide the products we are using," he adds.
(UPDATE: Kevin and Shawn both took first place nationally again in 2018 in their respective categories, with yields of 388.07 bu/a [Kevin - AA Non-Irrigated] and 343.0 bu/a [Shawn - AA No-Till/Strip-Till Non-Irrigated]. Congrats to both of them!)
To find out more about the other winners who used biocatalyst products, you can read our profile of Don Stall, national winner of the irrigated corn category, or Jeannie and Wally Linneweber, who placed second in the AA non-irrigated corn category.
You can also learn more about Accomplish LM by accessing our Accomplish LM booklet.