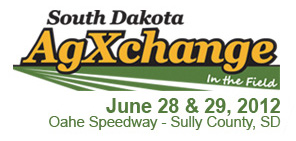 The South Dakota AgXchange wrapped up on Friday, after two days packed with growers, ranchers, and suppliers showcasing the latest agricultural technologies and techniques. Agricen was proud to be a gold sponsor of this inaugural event.
The growers we spoke to at the AgXchange had a high interest in a few key areas:
Increasing the efficiency of their current fertilizer programs, especially in regard to nitrogen.
Solutions for dealing with nitrogen tie-up in no-till practices, which are common in South Dakota.
Learning more about Agricen's biochemical fertilizer catalyst and implementing it with their liquid starters and on dry fertilizers.
If you weren't able to make it to the event, but want to learn more about enhancing the efficiency and sustainability of your current plant fertility program with Agricen's products, please contact us at info@agricen.com.