By Steve Sexton & Brian Cornelious, PhD, Agricen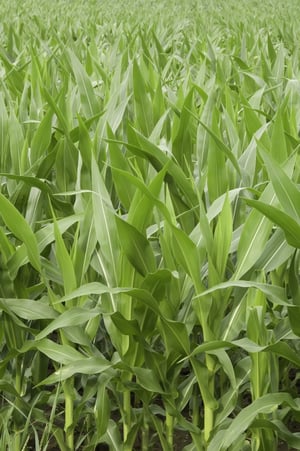 One of the pillars of the 4R approach to plant nutrition is applying fertilizer in the "Right Place." This concept has opened the door for researchers and producers alike to examine practices that place small quantities of nutrients in a concentrated zone close to the point of seed placement. The use of starter fertilizer, which is aimed at getting plant nutrients in the "right place," is becoming a common practice in some parts of the country. Here we look at starter fertilizer programs for corn from a nutrient efficiency perspective.
A standard starter program in the U.S. Corn Belt is 5 gallons of ammonium polyphosphate (APP; 10-34-0) plus 1 quart of zinc. 10-34-0 is a common polyphosphate fertilizer that must be converted into a plant-available form, called orthophosphate, prior to plant uptake and utilization. In fact, most starter fertilizers are primarily composed of the polyphosphate form of phosphorus.
Conversion to plant-available orthophosphate takes place in the soil, where microbes and soil chemistry both play a major role in making applied and existing soil nutrients available to the plant and in the timing of nutrient release into the soil solution.



Adding biochemical plant nutrition technologies into starter programs can speed this conversion process AND facilitate plant nutrient uptake to improve plant performance, as demonstrated here in two (of many) field trials of corn using Accomplish LM that have been conducted around the country over the past several years.

Kindred, North Dakota
In this trial, the grower standard practice (GSP) was 5 gallons of 10-34-0 plus 1 quart of zinc. This was compared to GSP plus 1 quart of Accomplish LM, a fertilizer catalyst containing concentrated biochemicals to release nutrients and facilitate plant uptake.
Results: GSP + Accomplish LM out-yielded GSP alone by more than 10 bushels/acre. An analysis of the yield map (Fig. 1) illustrates that the aqua blue striping (>185 bushels/acre yield) is where Accomplish LM was added to the GSP.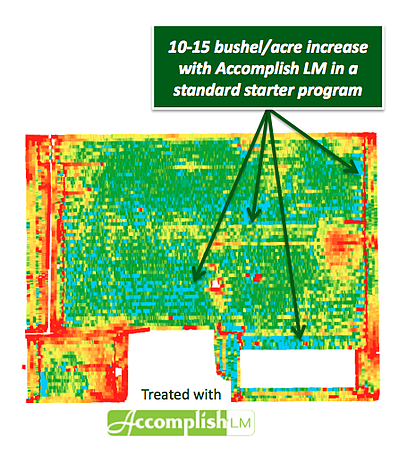 Fig. 1. Yield map for Kindred, ND trial of Accomplish LM in a starter program on corn. Adding Accomplish LM to the grower's standard increased corn yield by more than 10 bushels per acre.

Straughn, Indiana
This trial included several starter programs with two replications each on two different Dyna-Gro corn hybrids (DG57V40 and DS1ss40). The highest-yielding (190 bushel/acre average) treatment was 2.5 gallons RiseR (7-17-3) + 1 quart Accomplish LM, while a common starter blend of 5 gallons 10-34-0 + 5 gallons UAN 28% yielded only 168 bushels/acre on average (Fig. 2). This is even more interesting if you pay close attention to the difference in total N-P-K nutrition: 10-34-0 + UAN 28% applied at 5 gallons each contains the equivalent of 20 units N and 20 units P, while 2.5 gallons of RiseR + 1 quart of Accomplish LM contains the equivalent of 2 units N, 4.5 units P, and 0.8 units K.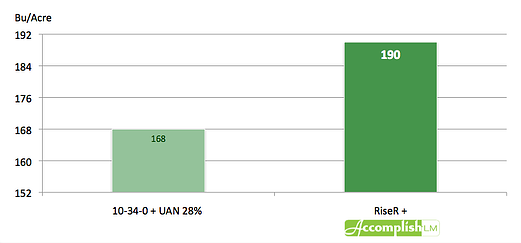 Fig. 2. Yields for Straughn, IN trial of Accomplish LM in a starter program on corn. The highest yielding treatment was Accomplish LM with RiseR.


Looking at the total N-P-K analysis, how did the starter program using Accomplish LM outperform the other programs? One reason is that Accomplish LM adds concentrated biochemicals (e.g., organic acids, enzymes) to the program, interacting with the soil chemistry to release nutrients and facilitate nutrient uptake.
Crops that get off to a good start often maintain an advantage during the growing season over those that struggle to get going. As these studies show, growers that include a facilitative biochemical technology such as Accomplish LM in their starter programs can maximize the efficiency of applied nutrients and improve plant performance, including increasing feeder tip roots and root mass.
Further, it makes no difference whether the preferred starter is a polyphosphate (10-34-0) or an orthophosphate/polyphosphate blend; both phosphate forms respond to applications of Accomplish LM.
Learn more by downloading the Accomplish LM booklet.