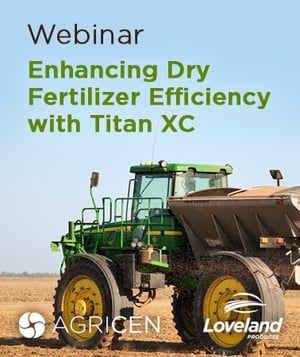 Our latest webinar, "Enhancing Dry Fertilizer Efficiency with Titan XC," is now available to watch online.

During this on-demand webinar, you will:
Learn

how to maximize the efficiency of your fall dry fertilizer application
Understand how incorporating Titan XC into your dry fertilizer application can lead to a greater return on investment and greater yield opportunities
See how Titan XC has performed in corn, soybean and wheat trials
Titan XC is a fertilizer biocatalyst designed to unlock the potential of dry fertilizer programs. When applied to dry fertilizers, Titan XC expedites nutrient availability and uptake, enhances nutrient use efficiency and improves nutrient recovery from dry fertilizer applications.
Watch this on-demand webinar today to learn more about enhancing dry fertilizer efficiency with Titan XC.