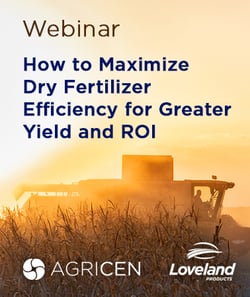 Most nutrients in dry fertilizer are not in a plant-available form when applied to the field. This can make nutrient recovery slow and inefficient during the growing season. How can growers improve the availability and uptake of applied nutrients for better plant productivity?
Watch the on-demand webinar, "How to Maximize Dry Fertilizer Efficiency for Greater Yield and ROI," to learn:
How

to improve the efficiency of your dry fertilizer application




Why

solubilization of dry fertilizer prills is important




How

utilizing Titan XC on dry fertilizer can lead to greater yield opportunities and a higher return on investment
Titan XC
helps drive a higher return on every acre by enhancing dry fertilizer efficiency, playing a key role in nutrient release from fertilizer prills and in the uptake of both applied and existing nutrients in the soil profile.
With the proven technology in Titan XC, crops have greater access to the nutrition they need, which can help boost crop yields and increase a grower's return on investment.
Watch the webinar today to learn how to get the most out of your dry fertilizer application with Titan XC.