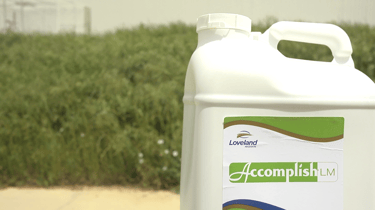 We're proud to announce that Accomplish LM has been recognized by Farm Industry News as a FinOvation 2016 honoree, joining 21 other ag technologies that have also been recognized for their innovation.
We are now in the running for a further honor, the FinOvation 2016 Product of the Year Award.
Please take a moment to vote for Accomplish LM as the FinOvation 2016 Product of the Year, and help us gain even more recognition for the unique benefits of this innovative fertilizer biocatalyst. Voting ends at noon on January 25.
Accomplish LM contains concentrated biochemistry that helps growers get more out of their liquid fertilizers and soil nutrients by increasing nutrient availability and enhancing root growth and function. By converting organic nutrients into inorganic forms, Accomplish LM makes nutrients more available for plant uptake and utilization, helping to optimize yield potential and providing outstanding grower ROI.
Farm Industry News has been presenting the FinOvation awards for more than 20 years. The awards will be presented this year on February 11 during the National Farm Machinery Show in Louisville, KY.