Tim Sickman, Research Farm Manager, Loveland Products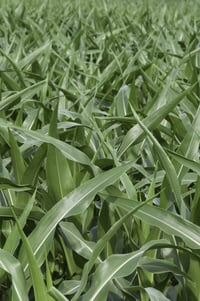 Most of the mineral nutrients that plants need for development, growth and health are taken up by the roots. However, plants can also absorb nutrients directly through their leaves, and foliar feeding is widely used and accepted as an essential part of crop production.
Although leaves don't have the capacity to absorb a large quantity of nutrients, nutrient absorption through the leaf is more efficient than nutrient uptake from the soil. For this reason, foliar applications provide a precise and efficient way for growers to address micronutrient deficiencies. Foliars can also be used more broadly to boost plant health and performance. Radiate® and NutriSync® products are great examples.
Radiate is a plant growth regulator that contains the plant hormones IBA (3-indolebutyric acid, which is an auxin) and kinetin (as cytokinin). In Radiate, IBA and kinetin are combined in the optimum ratio to maximize physiological processes in the plant that drive root and shoot growth. Radiate can be used as a foliar application during the two-to six-leaf growth period (V2-V6) to jumpstart early season root growth and plant vigor, leading to gains in crop productivity.
NutriSync products contain a molecule that helps to mobilize nutrients in the plant to areas of vigorous growth. It also promotes better utilization of nutrients within the plant to fulfill nutrient demands and supports other processes that are central to plant growth and development, including cell signaling and protection against salt stress. With NutriSync, growers have a wide window of time to make an application, with similar improvements in crop productivity when applied early or later in the season.
Radiate and NutriSync can be used each season to promote better plant responses and make the most efficient use of present nutrients. With a bigger root system after an application of Radiate, plants can contact and capture more nutrients. Once nutrients are in the plant, NutriSync can transport them to areas of high demand, making sure the plant has nutrients where they are needed most and making room for more nutrients to be taken up by the roots.
Together, these foliar applications can provide growers with an excellent return on investment, especially given today's crop prices.
Contact Nutrien Ag Solutions for more information on these foliar products and other plant health technologies from Loveland Products.