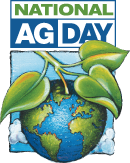 Today is National Agriculture Day, a day designated by the Agricultural Council of America to reflect on and celebrate American agriculture and the important role it plays in our daily lives.
According to the council, a single American farmer is already responsible for feeding almost 150 people. That's an impressive number, but, with continued population growth, the need for farmers to grow ever more food is undeniable.
At Agricen, we're doing our part to make this possible by helping growers economically and sustainably increase their yields.
We're proud to play a role in American agriculture, and we wish everyone a happy and safe National Ag Day!