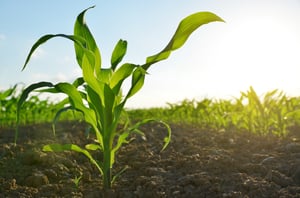 After planting, there are still important decisions corn growers must make to ensure a good harvest. One key decision is how to manage a sidedress nitrogen application in a way that maximizes N use efficiency and increases yields, particularly during periods of low or declining commodity prices.
When planning a sidedress N application, there are two key points that growers should consider to ensure maximum corn performance and yield:
Time the application for optimal N uptake.

A developing corn plant needs the majority of its N during growth stages V8 through VT/R1, when the rapid uptake and utilization of N is essential for maximum grain yield. Applying sidedress N around the V6 growth stage—approximately 24-30 days after emergence—ensures that the crop will be supplied with N when demand is highest.
Consider supplemental technologies, such as a fertilizer biocatalyst and/or nitrogen stabilizer, to enhance the sidedress application.

Fertilizer biocatalysts can be used to ensure that both applied N and soil nutrients are in the most efficient form for plant uptake, while nitrogen stabilizers or inhibitors can ensure that N remains in the root zone for plants to access when they need it most. Accomplish® LM is a fertilizer biocatalyst that effectively converts nutrients into plant-available forms—including helping to convert applied N into nitrate (NO3) and ammonium (NH4)—to facilitate plant uptake. Accomplish LM can be applied directly with sidedress N alone or together with a nitrogen stabilizer technology. Both types of applications increase the efficiency of a sidedress N application and can lead to improved yields.
In a field trial in Bowling Green, Missouri, adding Accomplish LM at 1 quart/acre to UAN 32% increased corn yield by more than 6 bu/acre compared to UAN alone.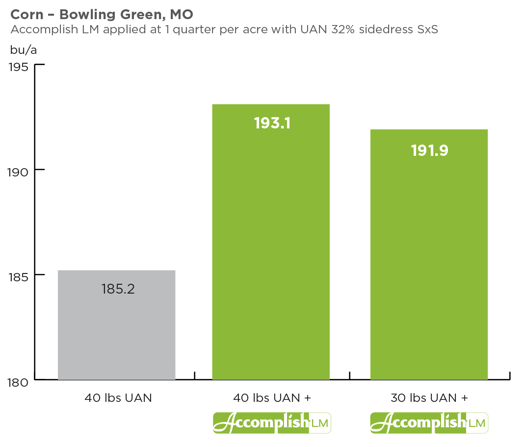 In a field trial in Plattsmouth, Nebraska, applying 1 quart/acre of Accomplish LM with a nitrogen stabilizer and UAN 32% increased corn yields by 10.7 bu/acre compared to UAN alone.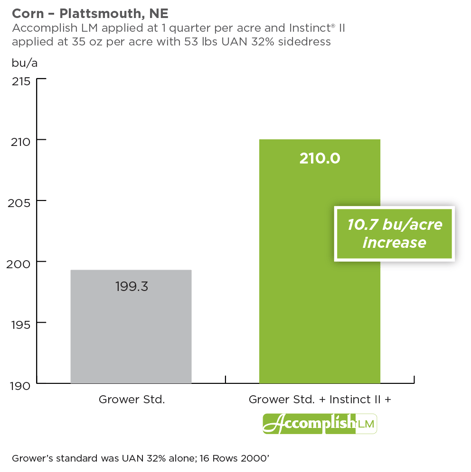 And a review of 54 trials over a five-year period shows the overall positive impact of Accomplish LM technology in a sidedress program, with an average yield increase of 5.76 bushels per acre.
The bottom line: A sidedress application can ensure that a corn crop gets the N it needs, when it needs it most. Growers should time their application right before peak uptake and consider supplemental technologies to enhance nutrient use efficiency and maximize yield.
Learn more about using Accomplish LM to enhance sidedress applications on corn by downloading this summary of Accomplish LM Sidedress Studies.
Instinct is a trademark of The Dow Chemical Company ("Dow") or an affiliated company of Dow.