Soybean growers need new tools to help them improve plant health and yield. A starter program can play a role, but traditional starter fertilizers contain salts that can damage soybean seedlings.
Working together, Accomplish® LM and Radiate® get soybean crops off­ to a faster, better start. An early application of these salt-free products helps to cost eff­ectively increase plant vigor, reduce plant stress and enhance productivity.
BENEFITS:
• Better root growth and plant vigor
• Less early season stress
• No salt, so safer for the seedling
• Low-volume efficiency
• Better plant health from emergence through yield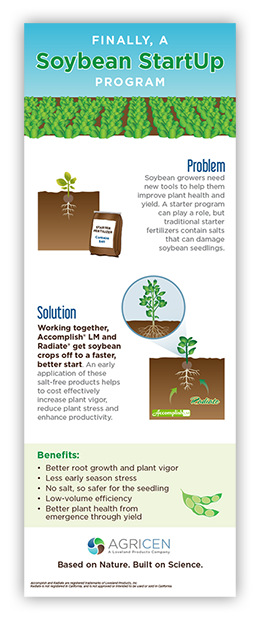 Accomplish and Radiate are registered trademarks of Loveland Products, Inc. Radiate is not registered in California, and is not approved or intended to be used or sold in California.