Strip-till banding and root zone banding (RZB) allow growers to apply plant nutrition in a band in the tilled zone while leaving residue undisturbed for soil and moisture conservation purposes. Strip-till is common in Central and Western states—such as Kansas, Colorado, Nebraska, and Oklahoma—where the climate is more arid and there is less rainfall compared to the Central Corn Belt.
To evaluate whether Accomplish LM, a biochemical crop input, could improve yields when added to a grower's standard minimum tillage program, three corn trials were conducted in Iowa and Kansas. The trials resulted in yields that were 11 bushels per acre higher with Accomplish LM: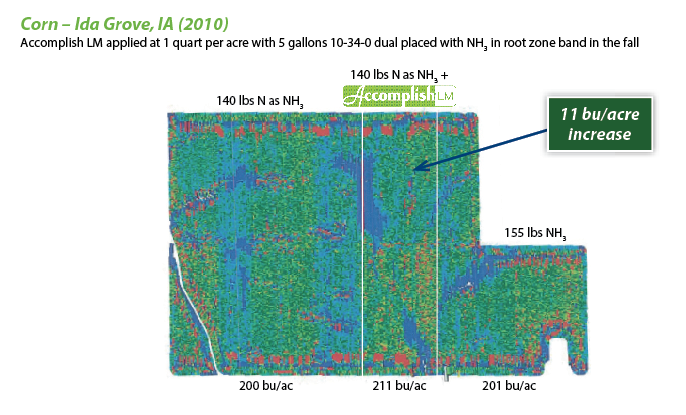 Ida Grove, IA (2010): Accomplish LM was applied in a root zone band at 1 quart per acre with 5 gallons of 10-34-0 dual placed with NH3 (anhydrous ammonia) in the fall of 2009.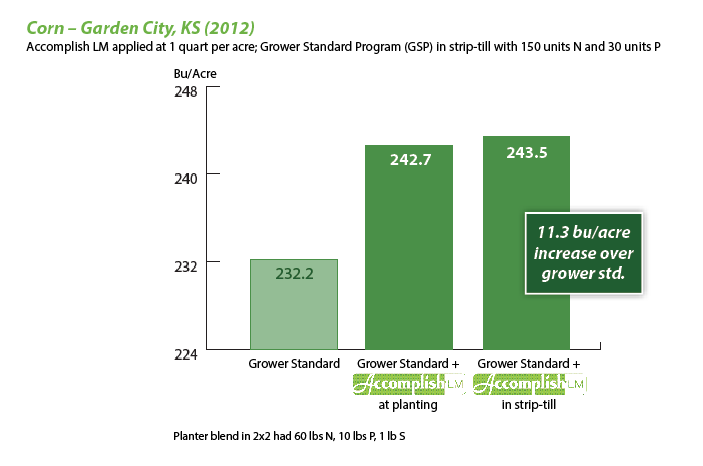 Garden City, KS (2012): Accomplish LM was applied at 1 quart per acre with grower's standard practice of 150 lbs. N and 30 lbs. P in strip-till.
If your program includes strip-till, consider Accomplish LM to help maximize your yields.